Ugly Sweaters for Survivors Party hosted by SJ4H
Date(s): Saturday, December 16, 2017
Time: 5:00 PM - 11:00 PM
Website: http://www.survivorsjoiningforhope.com/events/
Location: Hilton Garden Inn, 201 East 8th Street
Phone: 605-838-6636
Email: brad@survivorsjoiningforhope.org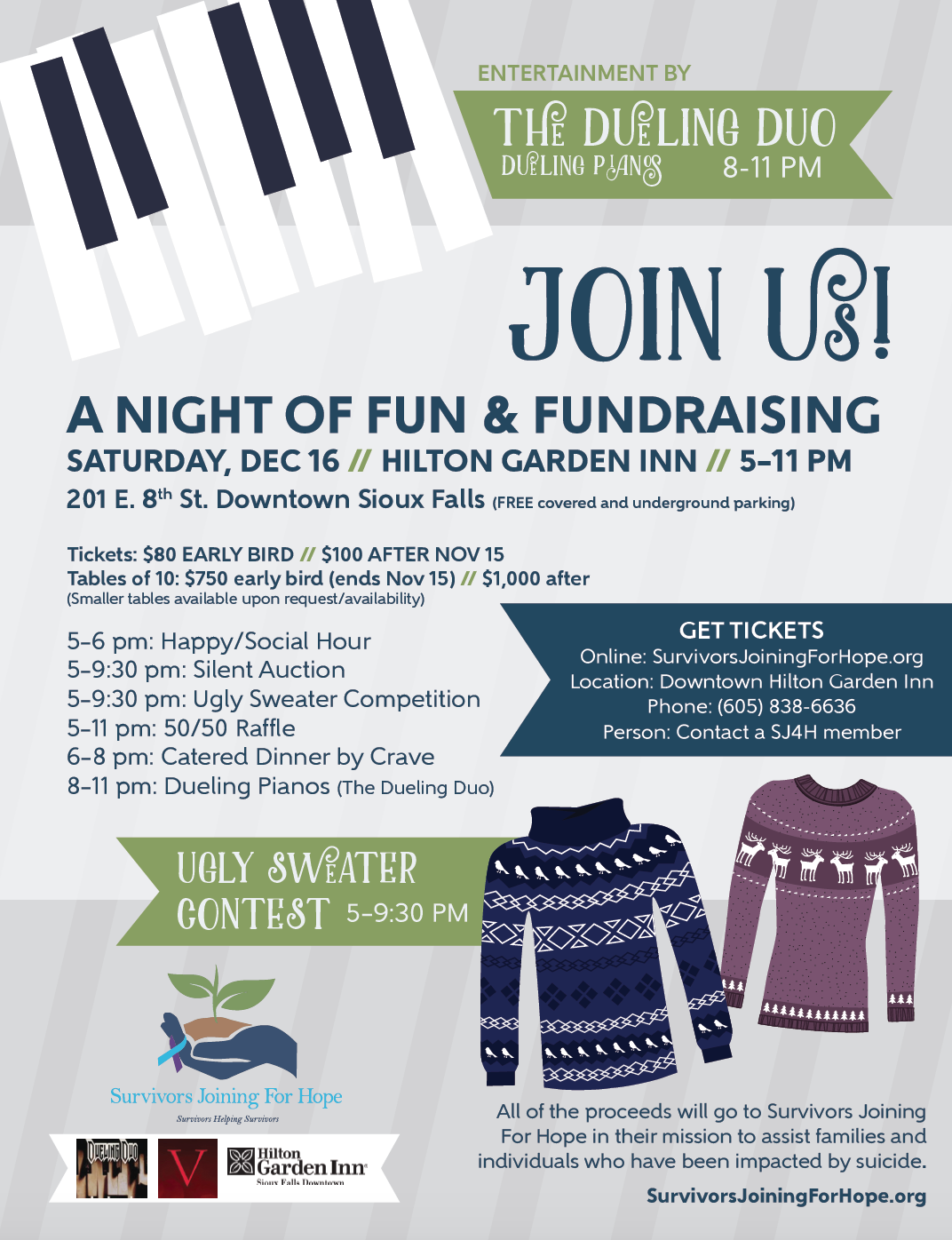 The 2nd Annual Ugly Sweaters for Survivors Party will be hosted by Survivors Joining for Hope and held at the Hilton Garden Inn (Downtown). Funds raised during the event will go towards Survivors Joining for Hope's mission to support families throughout South Dakota that have been impacted by suicide.
The event starts at 5 pm with a Social/Happy Hour. Then from 6 pm - 8 pm dinner will be catered by Crave with three different meal options available. From 8 pm - 11 pm the Dueling Duo (Dueling Pianos) will be putting on a one of a kind performance that is sure to entertain all in attendance.
Other events during the night include a Silent Auction, Ugly Sweater Competition, 50/50 raffle and more.
Tickets can be purchased through Eventbrite, Survivors Joining for Hope's Website, Facebook or over the phone at (605) 838-6636.
Survivors Joining for Hope is a local 501(C)3 nonprofit organization that provides financial assistance for funeral & grief counseling expenses incurred after a loved one passes away to suicide. They also meet with and connect local survivors with other survivors to provide a sense of support and belonging immediately after being impacted. Please consider supporting SJ4H and their mission to support all those impacted by suicide.