Overview
Join us for the 30th Annual Parade of Lights, as we light up the city and welcome in the 2022 Holiday Season!
The Parade of Lights has become a family tradition, attracting thousands who have reveled in the coming joy of the season. We invite you to be part of the 30th year of this growing holiday tradition!
The parade begins at 7:30pm, as holiday floats with festive decorations and plenty of lights will line the streets of historic downtown for the public to enjoy the sights and sounds of the holidays! The parade route runs on Phillips Ave between 13th St and 5th St.
Parade registration has closed.
DTSF will provide accessible or designated parking for people with special needs. Please call 605-338-4009 at least 48 hours prior to the event.
Below is a map of the parade route and associated street closures.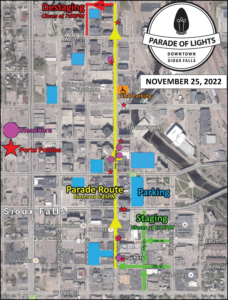 Thank You to Our Parade of Lights Sponsors: