Overview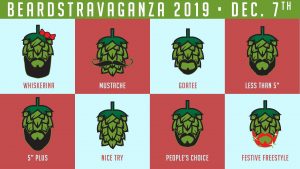 Remedy's 3rd annual Beardstravaganza beard competition is back! This year, they will be partnering with Bryant Salon And Spa & Simply Perfect to raise money for a local nonprofit, Call to Freedom. Their mission is to rehabilitate victims of human trafficking and help them get back on their feet.
There will also be live music featuring 3,000 Miles – an energetic duo traveling across the nation, singing the stories of their adventures as they make their journey home (performing from 7-10pm).
This is a free event to spectate – $10 beard contestant entry: https://www.remedybrewco.com/products/beardstravaganza-entry
Here are this year's categories:
• Whiskerina – Ladies only! This artistic category is wide-open. Create the most realistic or imaginative and fantastic design you can, inspired by any style of facial hair. Creativity in material choice is encouraged. Search for "Whiskerina" and be amazed at the creativity and materials. Facial hair must be attached to head without the use of your hands! This is the first category of the event.
• Mustache – The mustache, any size or shape. Styling aids allowed but not necessary.
• Goatee – goatee as they are with limited use of styling aids, or none.
• Beard:Less than 5″ – The cleaner and more well kept, the better. Any styling method should be used to only accentuate, and must not be used in excess, resulting in an unnatural look.
• Beard:Greater than 5″ – A full beard consists of hair on the upper and lower lip, the chin, the cheeks, and the sideburns, without any natural or shaven gap. Lengths are measured from the bottom of the lower lip.
• Nice Try – Can't seem to grow a beard or mustache, but still want to strut your stuff? This is your category. For the manly man that just never was blessed with the ability to grow facial hair. Nice Try!
• Festive Freestyle – Brand new this year, must be a participant from any category can enter. After judging from the other categories is completed, Bryant Salon and Spa will assist and turn your facial hair into the most festive face they can! This will be the final category. Feel free to bring any accessories (ornaments, Xmas sweater or outfit, candy canes etc.) to enhance your Festiveness for this category!
• People's Choice – The public weighs in on their favorite contestant of the contest. Can be a from any category listed in this competition.