"Meet Me Downtown!" This is a common phrase heard from a friend you're meeting for drinks, a family member about to grab lunch, your favorite shopping partner, or from a variety of other people. Now you can hear from DTSF small business owners about why you should meet them right here in downtown.  Each month we'll help tell the stories of what makes this community so special.
Whether you're looking for some great outdoor gear, workout accountability, or a great community of individuals, this month's featured business is right up your alley. Meet Greg Koch with 605 Running in Downtown Sioux Falls!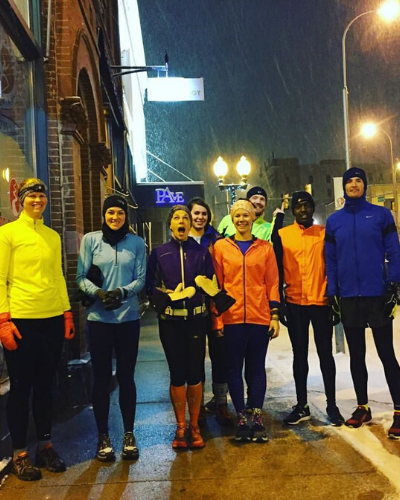 Q: First, tell us your history with  605 Running Co.
Growing up in a family business certainly played a key role in my position as part owner of 605 Running Company. I always knew that I wanted to take ownership of something that I could distinctly call my own some day. I had no idea that it would be a running specialty store, but I'm not surprised that my current career is based on health and wellness. My parents are great mentors and still to this day look to them for advice and direction in the decisions that I make in business. I also enjoy being able to collaborate with them on unique projects like the Sioux Falls Skedaddle.
Q: What's one of your favorite memories from 605 Running?
A: I have many wonderful memories from 605 Running Company, but one of my all-time favorites has got to be the video series we created to win the Salty Running Blog bracket challenge to determine the #1 running specialty store in the country. In order to win we had to earn votes from our community and we beat stores from Minneapolis, St. Louis and Rochester (NY).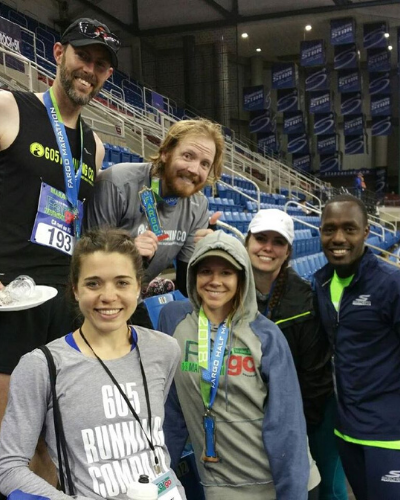 Q: Where is your store located?
 A: Our store is located downtown at 124 South Phillips Avenue.
Q: What's one product you'd highly recommend to anybody who walks into your store?
 A: No matter who you are, I assure you that you will love Balega Socks. They are incredible socks from a unique mission driven company with tremendous standards and business ethics.
 Q: Describe your ideal day in downtown Sioux Falls.
 A: My ideal day downtown would start (of course!) with a run with friends through Falls Park, probably around 5am. Next, my wife Chelsea and baby Violet would meet up with me and we'd grab breakfast at the Phillips Avenue Diner because of its proximity to my shop.
After an unreasonable amount of food and coffee we'd then visit the Washington Pavilion to play in the science center with my daughter. She is 9 months old, so of course I would be the child doing most of the playing while my wife wrangled us in.
From there we'd most likely be hungry again, so we'd visit my parents' shop, The Cookie Jar Eatery, and double up on family time and food. After that we would buy some books, puzzles and toys at Child's Play Toys, followed by a visit to the Great Outdoor Store–you never know what gear you need until you hang out for an excessive amount of time there.
We'd follow up with a late afternoon snack at CH Patisserie. Once all three of us were refueled with only the finest French treats we would do some more shopping at Duluth Trading Company, The Spice and Tea Exchange and Mrs. Murphy's Irish Gifts. Finally, we'd end our perfect day downtown with supper at Mama's Ladas.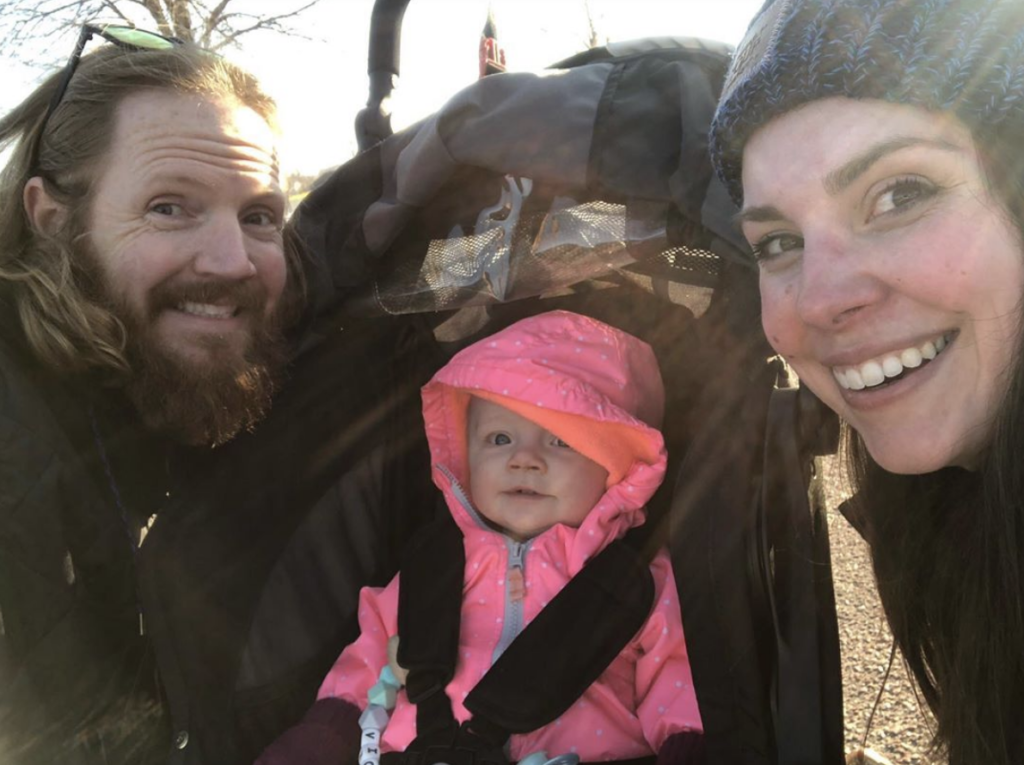 Q: Do you have any special events or news for the upcoming year for 605 Running?
A: We have the Sioux Falls Skedaddle Half Marathon presented by Avera coming up on April 26th. Our store always offers two unique group running events every Wednesday at 6:05pm and Saturday morning at 7am. We are also working on a new collaboration with some downtown friends at 8th and railroad. That announcement is expected to be coming very soon.

Q: Describe your business in three words:
A: Reliable, Fun and Honest
Q: What makes downtown Sioux Falls different than any other downtown?
A: My favorite part of Downtown Sioux Falls and what I think makes it truly unique is the people. As I planned out my ideal day downtown, it brought to mind the unique faces and experiences associated with each business. My family and I have been able to build meaningful relationships with the people that tie downtown together. It is a very special place–so much more than shops, venues and living spaces. It is a family, enriching the lives of everyone who experiences what we have to offer.
Ready to learn more about Greg and 605 Running? Visit their website and follow them on Facebook and Instagram! Hear more DTSF stories and follow #MeetMeDTSF