"Meet me Downtown!" This is a common phrase heard from a friend you're meeting for drinks, a family member about to grab lunch, your favorite shopping partner, or from a variety of other people.  Well now you can hear from DTSF small business owners and why you should meet them right here in downtown.  Each month we'll help tell the stories of what makes this community so special.  If you're looking for a unique gift, *cough* Valentine's Day *cough*, this month's featured business will be a great place to look through. Meet Terri Schuver with Sticks and Steel in Downtown Sioux Falls!
Q: First off, tell us about the history of Sticks and Steel.
A: Oh, boy… Well, Sticks and Steel really started with Prairie Dance, a rusted-metal gift and décor line that started back in 1997.  I was traveling around the country selling her Prairie Dance creations at fairs and markets.  I started to take note of the unique and beautiful goods her exhibiting neighbors were selling, and thought to herself "people in Sioux Falls would so appreciate these things!".   So I bought several pieces from some of my favorite artists and sold them out of a small store front space in front of the Prairie Dance studio and welding shop.  The "grand opening" of Sticks and Steel was in September of 2001.  Now, 19 years later, the gallery has been through half-a-dozen expansions and takes up about 2000 square feet of space.
Q: What's one of your favorite memories from Sticks and Steel?
A: My favorite memories seem to be of the people we've connected with through the business.  We've hired workshop employees that couldn't speak English and are now thriving American citizens as well as the dearest friends.  And we've come to realize that we've learned more from them than they will ever learn from us!  We've hosted a surprise engagement for an awesome guy who wanted to surprise his sweetie…..we hid the ring, chilled the champagne and cheered when he popped the question!  We've bonded (and sweat!) with employees and their families when everyone pitched in to paint our retail space with 20ft high ceilings.  I can't really pick just one memory….they all make up the fabric of who Sticks and Steel is!
Q: Have you always been located in the 8th & Railroad Center on the Eastbank of downtown Sioux Falls?
A: 8th and Railroad is Sticks and Steel's first official location.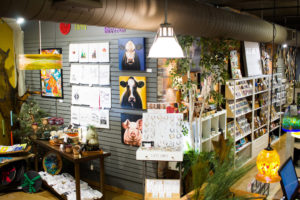 Q: What's one product you'd highly recommend to anybody who walks into your store?
A: Bacon Cooker!  That thing is the bomb.  It's a beautiful piece of pottery that cooks bacon in minutes.  What more could a Midwest gal ask for?!
Q: Describe your ideal day in downtown Sioux Falls.
A: Easy! First stop, Queen City for their goat cheese quiche and tea… so amazing!  Then, of course, Sticks and Steel… chop down a few goals with my team and see all the new goodies we have coming in.  Sanaa's Shish Tawook has my heart, so that would definitely be my lunch stop… Walk through Josephine's for a little botanical breather before heading back to the shop.  Finally, I'd end the day at R Wine Bar for happy hour with my downtown amigos. Perfect!
Q: Do you have any special events or news for the upcoming year for Sticks and Steel?
A: We have so many events planned!  You all can count on our Annual Clearance Sale and Prairie Dance sale this spring.  We have several artist events in the books along with workshops and special shopping events too. Keep your eyes on our Instagram and Facebook page for details as we get closer to all the fun.

Q: Describe your business in three words.
A: Artful, Vibrant, Fun-loving.
Q: What makes downtown Sioux Falls different than any other downtown?
A: The community!  Our neighbors are the best.  Restaurants, retailers, hotels, we all work collaboratively with the same goal in mind—we wanna bring the fun!  We're blessed with an amazing customer base filled with small business evangelists and we all wanna be worthy of their support and patronage and we know it takes every business in our neighborhood to make that happen.
Ready to learn more about Terri and Sticks and Steel? Visit their website and follow them on Facebook and Instagram! Hear more DTSF stories and follow #MeetMeDTSF