Downtown Sioux Falls is home to over 50 dining and nightlife establishments, but if you haven't been to Sanaa's 8th Street Gourmet in downtown Sioux Falls – you're missing out on a casual, friendly atmosphere and critically acclaimed Mediterranean food. The restaurant was even lauded by the New York Times.  If you have eaten at Sanaa's you'll likely relate to the GIF below. Restaurateur Sanaa Abourezk is celebrating 15 years in the downtown Sioux Falls area and we are totally here for it!
When you eat literally anything at Sanaa's 8th Street Gourmet: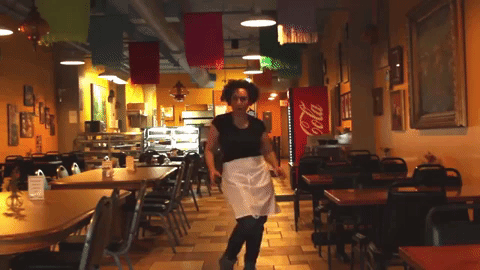 We asked The Sanaa some questions about her restaurant's history and what she loves about downtown.
Q: First off, tell us about the process to open Sanaa's; did you have a business plan?
A: We moved to Sioux Falls about 23 years ago.  I have degree in Agriculture Engineering from Damascus University and Master's Degree in Food and Nutrition from California State Polytech University in Pomona, California. My father was a farmer in Syria and mom is great cook. I always enjoyed and appreciated fresh cooked food.  When we moved here, I cooked and entertained at home and kept looking for farm to table style eating place.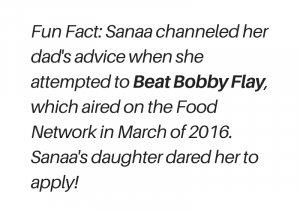 Q: Who are your business mentors? 
A: My dad is my business mentor.  He taught me and my siblings to that do what you like, consequently to give it our best and never give up.
Q: Have you always been located in the 8th & Railroad Center on the Eastbank of downtown Sioux Falls?
A: 8th & Railroad is my first and only location for my first and only business.  When my husband Jim moved his law office to the 8th & Railroad Center, the building owner offered me good rent if I agreed to open there.
Q: What have you learned in your 15 years in the restaurant industry?
A: The restaurant business is hard and stressful work.  Being head chef and the business owner is double stress. My way of managing the pressure and the demand of the work is to limit the restaurant's hours; this has allowed me to enjoy my work and my family.
Q: What is your favorite song or type of playlist to dance to listen to while you're cooking?  
A: It is mixture of dance and up-lifting songs from around the world. I turn the volume all the way and dance and cook my way around the kitchen until my staff arrive.
(She's not kidding, folks…)
Q: What is your favorite menu item?
A: I love tabbouli. I eat it every single day.
Q: Finally, what's your favorite part of the downtown Sioux Falls community?
A: I feel that the downtown community is more like a family that help each other to succeed and grow.
Sanaa's 8th Street Gourmet accepts DTSF Gift Cards so head over to 8th and Railroad to say congrats, and try the tabbouli.
Like this GIF?  Share in group messages, social media or your own blog. Use the hashtag #dtsfgif and we might share it.