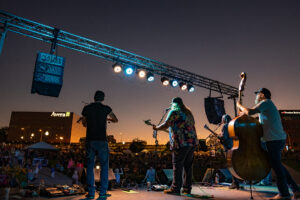 Downtown Riverfest, presented by Downtown Sioux Falls, Inc (DTSF) and The Bancorp, is celebrating its 10th year with a lineup of homegrown, regional musical legends, headlined by KORY and the FIREFLIES, with performances by Spooncat! and Rich Show & the Airports.
The schedule is as follows:
5:30-7:00pm – Rich Show & the Airports

7:30-9:00pm – Spooncat!

9:30-11:00pm – KORY and the FIREFLIES
The 10th Annual Downtown Riverfest presented by The Bancorp takes place Saturday, August 19 from 4:00-11:00pm at Fawick Park. This annual event celebrates the Big Sioux River with live music, food trucks, a marketplace, kids activities, adult beverages, and a pop-up skate park. 
"For the 10th anniversary of Riverfest, we have a line up featuring some of the most popular bands and musicians from Sioux Falls to grace stages throughout the region and beyond for the last few decades. It's going to be amazing!"  – Joe Batcheller, DTSF President
About the Performers:
Rich Show & the Airports is a newer ensemble from local musical legend, singer-songwriter and artist, Rich Show. Show is known for his eclectic mix of punk, country, pop, and electronic music rooted in Sioux Falls, SD. His expressive songwriting has made Show a fixture in the South Dakota music scene, including his work with regional sensations No Direction, Flag with Hank, and Violet. Show is a 2020-21 inductee in the SD Rock & Roll Hall of Fame.
Spooncat! was formed in 1996 in Dell Rapids, South Dakota, the brainchild of brothers Jeremy, Jason, and Jonathon Hegg, and lifelong friend Christopher Smith. Widely acclaimed for their original horn-driven songs, the band played throughout the Midwest for years, with performances stretching from Utah to Arkansas. Spooncat! has recorded five albums of original music. Now, more than twenty years after their first gig, Spooncat! maintains an active performance schedule featuring all nine of the original band members.
Kory and the Fireflies create "pop rock with punch" and the band has a special gift for connecting with their audience. The group is a 2023 Inductee into SD Rock & Roll Hall of Fame. The group has charted three singles in National Radio Publications and shared the stage with over 70 National Acts, including touring with Goo Goo Dolls, they've supported Kid Rock, Sheryl Crow, Journey, Def Leppard and many, many more. The band has appeared twice at Farm Aid with Willie Nelson, Neil Young, John Mellencamp and Dave Matthews and achieved Airplay in all 50 states with singles, "Sometimes", "Pop Fly" and "Everyone". Kory and the Fireflies create positive rock and roll and bring that same energy to their live shows.
DTSF appreciates community support and the 10th Annual Riverfest from our early sponsors who help make this event possible: The Bancorp, First Interstate Bank, Avera, and Sanford Health.
Volunteer at the 10th Annual Downtown Riverfest
The 10th Annual Riverfest is still in need of volunteers for multiple event duties. Volunteers will receive a customized t-shirt and free adult beverage after their shift. Find volunteer sign up information under the "Riverfest" section at: dtsf.com/volunteer-with-us