Downtown Sioux Falls loves dogs! Enjoy your outing with a little help from our list of pup-friendly shops and eateries. (Just be sure to prepare your pet for the extra attention and love they'll get!)
Tag your photos with #DTSFdogs as you share your pup's downtown adventures, and they might just become the next downtown dog celebrity!
1. Remedy Brewing Co.
Craft beer for you, plenty of excitement for your dog! Soak up some sun on the patio or relax indoors.
View this post on Instagram
2. 605 Running Company
Your 4-legged running buddy is welcome to join as you try on gear and check out new product arrivals. 
3. Bread and Circus Sandwich Kitchen
Sure, dogs might eat anything, but humans are a bit more choosy. Good thing Bread and Circus makes delicious sandwiches and salads that satisfy even the pickiest human. And for pets? There's plenty of great patio space so they can tag along and supervise!
View this post on Instagram
4. Coffea
Turn your dog's morning walk into a special treat when you stop in for a drink at Coffea!
5. Terra Shepherd Boutique & Apothecary
Treat your pet and the earth with care! Terra Shepherd is ready to welcome you and your pet to the sustainable side with eco-friendly goods.
6. Intoxibakes
Stop by Intoxibakes with your furry friend and ask about pupcakes for your pal and boozy treats for yourself!
View this post on Instagram
7. Common Sense 
The staff at Common Sense is ready to help with any vaporizing needs. All are welcome (including your four legged friends)!
8. The Source
If you're looking for a pet-friendly taproom and a coffee roasterie, look no further! The Source offers a tap wall, full coffee menu, and great tea options. Whether it's a morning coffee run or grabbing evening drinks, The Source has a drink for you!

9. Josiah's
Josiah's loves dogs, and dogs love Josiah's! It's the perfect spot for a sunny brunch or midday adventure. (Just be ready for your dog to get some attention!)
View this post on Instagram
10. Severance Brewing Co.
Whether you prefer the taproom or the patio, your four-legged friend is invited to both at Severance Brewing Co! Stop by and enjoy some pizza, games, and a relaxing evening. 
View this post on Instagram
11. Juniper Apothecary
Take a walk down the boardwalk at 8th & Railroad Center and don't miss Juniper Apothecary! Bring home bath bombs, moisturizer, essential oils, and more!
View this post on Instagram
12. Monk's Ale House
Bring your pet along when you stop by Monk's for a great atmosphere and great menu selection! Enjoy a brew and check out their revamped pizza menu. 
View this post on Instagram
13. Nyberg's Ace Hardware
From grill accessories for your next cookout to brand new toys for your pup, Nyberg's has it all! Stop by for helpful hardware staff to get you what you need (so you can spend more time with your pets at the park!)
14. Primp Boutique
Get your's pet's opinion on your next outfit! Primp is the perfect place to shop when your closet needs a little refresh.
View this post on Instagram
15. Woodgrain Brewing Co.
Swing by Woodgrain Brewing Co. for great beer and pet-friendly atmosphere! This microbrewery has a wide variety of beers, from IPAs to seltzers.
View this post on Instagram
16. Child's Play Toys
Have some fun with your pup and the kids in your life when you stop by Child's Play Toys!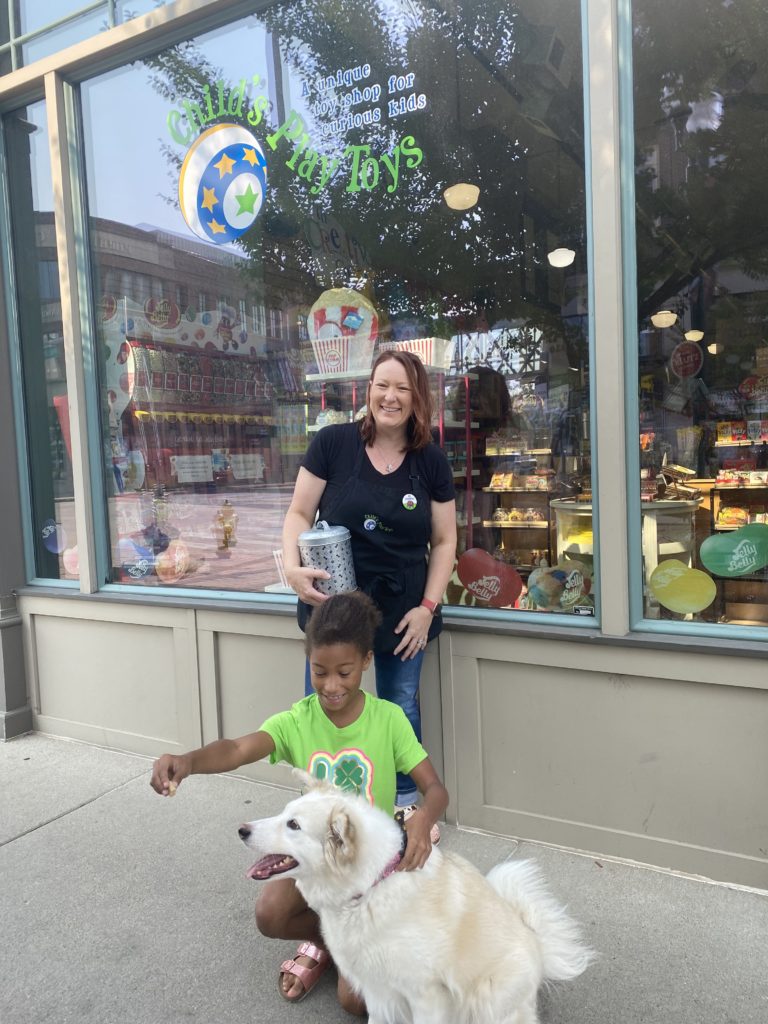 17. Kirby Dog Park
Stop by the Kirby Dog Park for some off-leash fun! Let your pup burn some energy and make some new friends in a safe and spacious park designed just for them!
Enjoy your downtown adventures, and be sure to share and tag your photos with #DTSFdogs!