The Downtown Sioux Falls, Inc. (DTSF) team works together to boldly lead the downtown community through diverse experiences, economic growth, a healthy enviroment, and to share ridiculous gifs through our Slack channels. Allow us to introduce ourselves as we share items from our personal DTSF Wishlists!
Joe Batcheller, DTSF President
Joe is from Sioux Falls and graduated from Roosevelt High School, and then the University of Sioux Falls. He later earned his Master's Degree from the University of California – Irvine in Urban and Regional Planning and worked in that field until joining DTSF in 2015. Joe and his wife Shauna have two boys, Winston and Harry, who are seven and five.
Favorite holiday tradition:

When I was a young boy, we would spend Christmas at my Grampa and Gramma's house in Colorado. It was always large gathering, as I have three aunts and three uncles. My Gramma would always put out Rotel dip and a relish tray with olive, pickles, and the like. It wasn't long before the olives dotted the ends of each of my fingers. I usually ended up parading around the house on the shoulders of my uncles at some point too. The best part was getting to open one present on Christmas Eve before Santa arrived. For whatever reason, it felt so special. Now my boys are that age and we go to their Gramma's house on Christmas Eve — relish tray and shoulder rides included. Somehow they've managed to figure out how to fill their little finger tips with olives too. And of course the best part for them — one present before Santa arrives.
Favorite part about downtown Sioux Falls during the Christmas Season:
Seeing so many families enjoying downtown together for the Parade of Lights! It's amazing how many people, young and old, come out to celebrate the launch of the holiday season. It feels good to know DTSF helped put smiles on so many faces.
Joe's DTSF Wishlist: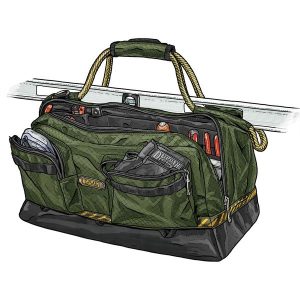 Brienne Maner, DTSF Vice President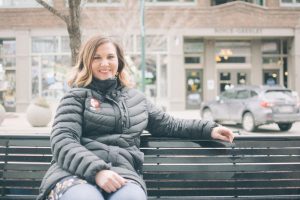 For nearly seven years Brienne has acted as the voice and face of the city's most vibrant and fastest growing neighborhood, telling Downtown's story in newspapers and magazines, in front of news cameras, across the web and face-to-face. She has also worked for Sesame Street Live, Electric Pulp, and Sioux Falls Jazz & Blues. In addition to her downtown family, she loves her husband Brian, daughter Pearl, and Puggle Eddie Money, who keep her busy and very happy.
Favorite holiday tradition:
I look forward to Holiday Jam at the Sioux Falls Orpheum Theatre every single year. Jeremy, Jon, Jimmy, Andrew, Joel and the rest of the incredibly talented ensemble are dear friends and whom I consider to be the backbone of the Sioux Falls music scene. I have attended the annual holiday concert (which benefits Lifescape) since its inception in 2009, with the exception of 2017 when my daughter was born. I cry every single year; it's such a beautiful event. I'm attending the show with my mom, Jane, this year!
 Why she's a little Old Fashioned when it comes to the holidays:
It makes my heart soar when I bump into old friends visiting from out of town who are blown away at the growth and vibrancy of our downtown! I also love driving through Winter Wonderland with a carful of people I love and a full mug of hot cocoa, or laughing my face off with friends at Carpenter Bar sipping on an Old Fashioned.
Brienne's DTSF Wishlist:
Steven Dahlmeier, Program Director
Steven's role at DTSF is to keep it real until event season hits; then, give him a handful of zip ties and a couple rolls of duct tape and he'll whip up an amazing event right before your eyes. He's passionate about water quality, kayaking, keeping volunteers happy, and his family; his wife and two daughters.
Favorite holiday tradition:
Santa visits. And, when Minerva's switches to Christmas music on their outdoor speakers.
Why Steven finds repetition amusing during the holidays:
Attending (and now coordinating) the Parade of Lights, driving through Winter Wonderland, and watching Christmas Vacation a dozen times.
Steven's DTSF Wishlist:
Sarah Munce, Program Coordinator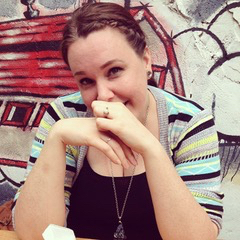 Sarah is a jack of all trades who keeps the books in order whilst coordinating DTSF promotions such as the Burger Battle and Art & Wine Walk whilst spinning several plates on her head and telling killer jokes. We'd all lose our minds without Sarah on the team!
Favorite holiday tradition:
Sitting around with my family on Christmas morning, everyone in their pajamas eating my dad's homemade caramel rolls, laughing and enjoying being around each other.
Why she thinks of downtown as a magical holiday wonderland:

Downtown during the holidays is like being inside a living a snow globe. It's beautiful, the crisp air, lights from the shops and restaurants in the evenings, and so many people enjoying friends and family. It's just got such a great, warm, inviting feel.
Sarah's DTSF Wishlist:
Sadie Swier, Communication Coordinator
She's the newest member of the team, as a fresh graduate of the University of South Dakota and former DTSF summer events intern. She's crushing it with her sweet Instagram Stories and digital content, and you'll likely see her on the news more often in the coming year!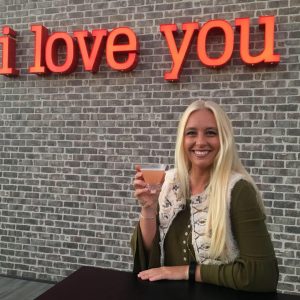 Favorite holiday tradition:
My favorite traditions are all about the preparation for the holidays.  I love baking dozens of cookies, excessively decorating the tree, and constantly listening to holiday music.
Why the holidays hit Sadie right in the feels:
My family has had a longtime tradition of attending the Parade of Lights and going to Winter Wonderland at Falls Park. I get so nostalgic going to the Parade of Lights and seeing the classic floats that have been in the parade forever.  Of course Winter Wonderland is so beautiful and when there isn't a South Dakotan wind, I really enjoy being walking around Falls Park!
Sadie's DTSF Wishlist:
Still looking for the perfect gift for your DTSF Wishlist? Purchase a DTSF giftcard!
Happy holidays from the team at DTSF.