The baristas know your coffee order, the shop owners wave hello, and you have an unofficial assigned seat. Let's face it, you're a regular. 
This is the place you go when you need to get past that block at work, grab lunch with colleagues, or just to see a familiar face.
As DTSF's Membership Coordinator, I spend a lot of time downtown. For me, that familiar place is the Jones 421 Marketplace. This is my field guide on how to spend a day here. (it'll be so easy, I promise) 


Start off strong with some shots (of espresso). Let's head to The Source for a latte. My go-to recently has been the Cafe Miel. Didn't sleep well last night? Toss in an extra shot, I usually do. I could spend an entire day here alone, coffee AND craft beer?  Two of my favorite things. 
It's easy to find a spot that fits your needs. Common areas are spread throughout the horseshoe shaped building. You can usually find me at a tall table tucked in the corner sipping on my latte, listening to some eclectic playlist Spotify has weirdly nailed, and plugging away on my computer.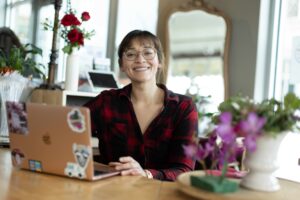 Browse Sharing the Dream in Guatemala and 605 Florista, a partnership of two businesses,. It's a one stop shop for all of your gifting needs! You will usually find Ariana from 605 Florista creating bouquets and centerpieces galore. Ask her anything about the plant you're actively trying not to kill at home, and I'm sure she'd be able to talk you through what you're doing wrong. 
When it's time to break for lunch, you've  got some options. 


Brosia Bowl is the newest restaurant at Jones 421 and is THE place to grab a fresh, plant based meal. My favorite is the Tuscan artichoke salad. Next on the list for me to try is the creamy coconut curry. In the warmer months you can also find them in their food truck providing a fresh bite at several downtown events. 


Another great option is Flying Santo Taco Bar. After watching them make fresh corn tortillas, I'll  never be able to enjoy store bought again. I recommend building your own tacos. It's tempting to dive right in, but be sure to grab a photo of this lunch masterpiece in front of their bedazzled mural. It's hard to miss!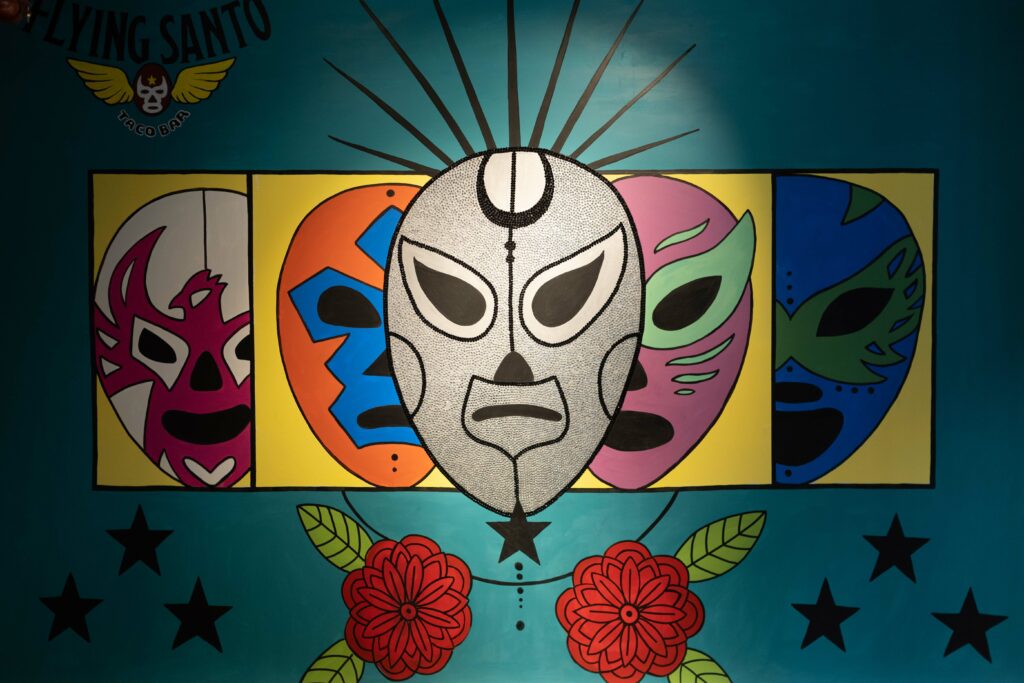 Just down the hall is Interiors Etc. This is the place where your Pinterest boards become a reality, and where I dream of all the ways I can redesign my living space. Mary Kelly started her business in 1975. Her son Richard followed in her interior design footsteps. When he moved back to Sioux Falls they opened up shop in Jones 421. 


At some point in the day it would be impossible not to stop into Henna Harvest and chat with Anndell. She's been doing henna for 16 years, traveling to festivals, comic cons and retreats. We could chat for hours about our favorite downtown shops, art, and their next seasonal market. 
The Jones businesses began collaborating on these in December of 2022. Artists rent a table, patrons can enjoy a coffee or beer, a bite to eat, live music, and buy from some of Sioux Falls best.
"I wanted to support local artists in our community and create an event that would get people into Uptown (Downtown) Sioux Falls to see everything that this area has to offer. At the same time, I would also be creating an atmosphere where locals could come support artists and makers from their very own community. "
Andell, owner of Henna Harvest 


After an afternoon of browsing, it's dinner time!
One thing is for sure on the menu: Swamp Daddy's. Inkka and her team bring the flavors of Louisiana to Downtown Sioux Falls, and they have been a staple in the building for 5 years. I couldn't talk about Jones 421 without mentioning this gem. Their 2023 Burger Battle submission was my personal, as well as a local favorite, placing 5th out of 32!


Rounding out this marathon of a day, I'm calling in recruits (the rest of the DTSF staff) cause we're heading to Intoxibakes. That's right, a boozy bakery. They've got every flavor under the sun, including non-alcoholic options to satisfy that post- dinner sweet tooth. Female owned and operated, these ladies are pros at what they do. If sweets are not what you're looking for, pop back over to the Source where they have a number of craft beers on tap! 
Whether you're taking a few hours to cram for your nursing exam, grabbing lunch, or celebrating with your colleagues for a job well done, you too will become a regular in no time. I'll see you at Jones 421.