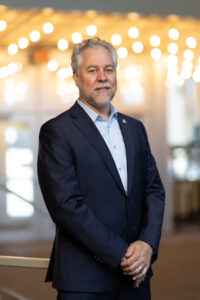 Joe Batcheller | President
Joe@DTSF.com | 605.338.4009 ext. 1015
Joe was born and raised in Sioux Falls, and has a deep passion for downtown that took root as a child as a result of frequent visits to the family business. His background is urban planning, having worked as a planner in Colorado for the Town of Vail and the City of Aurora. He also has over a decade of experience in the restaurant industry and has managed a handful of businesses, including two of his own startups. Joe joined DTSF in July, 2015. 
What Joe likes about downtown:
"Downtown Sioux Falls is where strangers become friends, where small delights are discovered daily, and where dreams are made. It is the neighborhood that belongs to everyone. It is the neighborhood that is more beloved than any other. It is the neighborhood that builds the greatest sense of community for Sioux Falls. Most of all though, it is the neighborhood that best demonstrates the city's potential and establishes our reputation as a city!"
---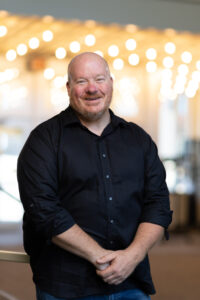 Martin Dill | Public Space Manager
Martin@DTSF.com
Martin has been part of the DTSF team since May of 2021, and has piloted the Downtown Ambassador program. Martin grew up in the Hilltop area of Sioux Falls, attended school at St. Lambert's, St. Mary's, and O'Gorman. Previously, he ran his own lawn care company for 25 years. In his spare time, he enjoys singing and creating music within the community, having spent 10 years with the St. Joseph's Cathedral Men's Schola, and occasionally performs live music with his dear friends in the local band, Janitor Bob and the Armchair Cowboys. 
What Martin likes about downtown:
"Downtown feels like the very lifeblood of our great city! From arts and entertainment, to a Saturday night on the town, to the Levitt at the Falls, Downtown Sioux Falls is something special and rare in the Midwest, for the true gift that it is to this community!"
---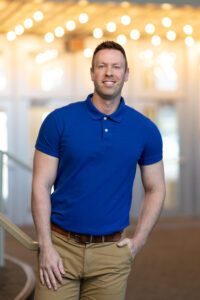 Jared Indahl | Events Manager
Jared@DTSF.com | 605.338.4009 ext. 1011
Jared's range of experience and previous roles include: Event Coordinator for the Mitchell (SD) Sports and Events Authority; Executive Director for Mitchell (SD) Main Street & Beyond; and Athletic Marketing Assistant for the University of Tennessee-Knoxville. In his spare time, Jared enjoys staying physically active with gym workouts and cheering on all University of Tennessee athletic teams! Hailing from Burke, South Dakota, Jared began as DTSF's Event Manager in January 2022. 
What Jared likes about downtown:
"There is always something going on downtown! Whether it's live music in one of the public spaces or a band doing a show at a bar, a food promotion, retail shopping event or an outdoor block party, you can find a new experience each time you visit downtown Sioux Falls. I also love the vibe of 'support local business' from store owners and patrons alike…buy local, or bye bye to local!!"
---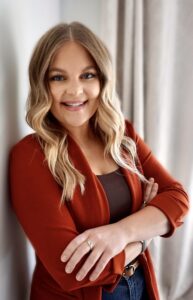 Charlee Riker | Membership Coordinator
Charlee@DTSF.com | 605.338.4009 ext. 1013
Charlee is no stranger to DTSF. After graduating from the University of South Dakota with a bachelor's degree in Fine Arts and an emphasis in Photography, she jumped right into the downtown Sioux Falls scene, working as a wholesale production manager at Sticks and Steel in the 8th & Railroad Center. When not spending time downtown, Charlee can be found adventuring in the Black Hills near her hometown of Rapid City, SD, probably drinking coffee, and listening to true crime podcasts. In joining the DTSF team in August 2022, she is excited to utilize her background in photography, and content creation to showcase the stories of members and the DTSF community.
Charlee's favorite downtown memory:
"When I was growing up, taking a trip to the 'big city' was always a real treat! On my first visit to downtown Sioux Falls, my mom took my sister and me on the sculpture walk. We took time posing next to all the cool sculptures, but young Charlee took a particular liking to Charlotte the pig. All the photos from our little photoshoot were accidentally erased. But somehow, young Charlee and Charlotte were saved on the camera."
---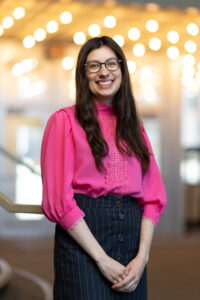 Tenley Schwartz | Marketing Director
Tenley@DTSF.com | 605.338.4009 ext. 1012
Tenley creates thoughtful event branding, delightful graphic design, and clear marketing messages. She values creativity, curiosity, and good stories. A transplant by way of Minnesota, she's excited to be part of Sioux Falls and help others feel like they belong, too. When she's not whipping up event graphics or marketing strategy, you'll find her drawing, reading, or spending time outside.
Tenley's favorite downtown memory:
"I had so much fun getting a peek inside the State Theater before its full renovation. I somehow scored a ticket to their special event. Balcony seats, a silent film, and professional musicians playing alongside the film. It was magical, even pre-renovation. Now, of course, it's been brilliantly restored for even more special memories."
---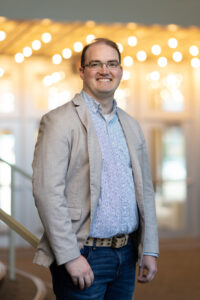 Andrew Steinhouse | Administrative Manager
Andrew@DTSF.com | 605.338.4009 ext. 1010
Andrew joined the DTSF team in April 2022. Born and raised in Sioux Falls, Andrew calls the east side of Sioux Falls home. After working downtown for a couple years at a past job and getting a taste of what it is like, he is excited to be back working in downtown and in such a historic building, the Orpheum. In his spare time, Andrew can be found helping out at the Olde Towne Dinner Theatre in Worthing, working on projects around the house, or spending time with friends and family. 
What Andrew likes about downtown: 
"The atmosphere and variety of shops, restaurants, and entertainment, as well as the many events that happen downtown throughout the year. It's also exciting to see the new developments taking place and seeing the landscape and skyline of downtown change over the years."
---
Learn More About the DTSF Team: DTSF Wins International Downtown Association Award for 2021 Burger Battle.