Overview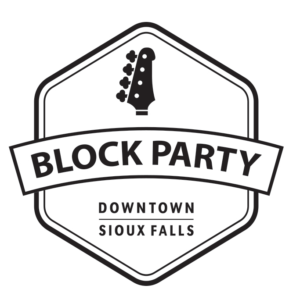 On the First Friday of the month, July through September, DTSF treats you to the ultimate block party experience. These events are located on the Eastbank of downtown Sioux Falls.
Enjoy live music, food vendors, beer, wine, and shopping at some of the most unique stores along the boardwalk of the 8th & Railroad Center.
Block party events provide a casual atmosphere that is family-friendly and fun for all ages. Feel free to bring your own lawn chair. Kick back and enjoy the sounds of local and regional acts performing each evening including Minneapolis blues, South Dakota folk, and everything in between.
Retail, food, and interactive vendors are set up along the venue's peripheral which complements the great retail stores along the boardwalk of the 8th & Railroad Center, providing a marketplace type atmosphere to purchase unique gifts.
DTSF is hosting an outdoor marketplace at our September 4 Eastbank Block Party.
Marketplace Vendors:
Angie Lucid Creative – Personal pet & animal portraits
Balanced Life Chiropractic – Chiropractic clinic
BluMoon Designs – Jewelry & retail gift items
Dakota Stoneware Pottery – Pottery
Jason Pfitzer Photographer – Art
Pet Wants – Pet products (jerky, treats, toys, etc.)
Sharing the Dream in Guatemala – Handmade products from Guatemala
Songbird Kombucha – Home-brewed craft kombucha
Sweetgrass Soapery – Homemade bath & body products
Food & Drink Vendors:
Backyard BBQ
Breaking Burrito
Gyros & More
R Wine Bar
Remedy Brewing
SDSU Ice Cream
The Lunch Box
Entertainment:
Buffalo Galaxy – Dust from the years of performing with many groups and musical styles has coalesced to form Buffalo Galaxy. Each member brings with them a tradition of Bluegrass and American music as their bedrock. Discover their music and more at www.buffalogalaxy.com.
The Tinder Box – Humbled by their southeastern South Dakota roots, The Tinder Box (Chad Konrad, Dominic Osterloh, & Jon Wallner) offer a uniquely cohesive blend of folk, blues, & bluegrass. Listen to their music at https://thetinderbox.bandcamp.com/music.
Merry Martial (Headliner) – David Mercer, Billy Sandness, and Andrew Reinartz make up Merry Martial, a psychedelic rock-and-roll trio. Listen to their music at https://merrymartial.bandcamp.com.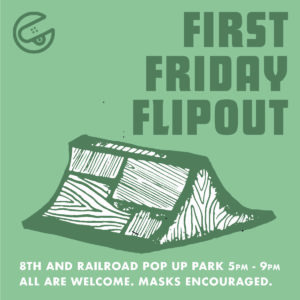 Make sure to check out the skate pop-up park set up by the Sioux Falls Skatepark Association!
First Friday Flipout is happening from 5:00pm – 9:00pm and all are welcome.
Applications for display and marketplace vendors are now open. Whether delicious food or lovely handmade items, we've got a spot waiting!
If an ADA accommodation is needed, please contact the DTSF office at 605-338-4009 at least 5 days in advance of the event.