Overview
3rd Annual Sioux Falls Winter Carnival
It's Sioux Falls, it's winter, and since the first snowfall, you've spent your time perfecting how long it takes to run from your car to the next warm building.
Embrace the ice and show old Father Winter who's boss.
Sioux Falls Winter Carnival returns for nine days jam packed with events for all ages. We'll bring back old favorites and introduce new events!
This event supports the Boys & Girls Clubs of the Sioux Empire.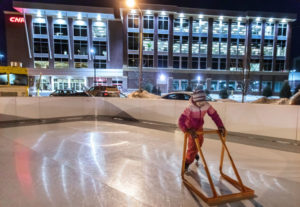 February 6 -14, 2021
Ice skate at the Pop-Up Ice Rink. —Canceled due to Weather—
Saturday, February 6, 2021
—Canceled due to Weather—
Watch as the Arc of Dreams in downtown Sioux Falls lights up blue for Boys & Girls Club and the kick off to Sioux Falls Winter Carnival.
Attend the virtual Frost Mask-erade! This event is free and available to all. All attendees will have access to silent auction, raffles, and the ability to donate to support Great Futures for kids.
Sunday, February 7, 2021
Escape 605 Downtown: Lumber Jacks and Jills ages 10-18 grab a friend and register your team of two by calling 605-271-7717. The fee to enter is pay your age. Registration deadline is February 5.
February 8 – 12, 2021
Escape 605 Downtown: Grab a friend and help raise funds for an Axe-llent cause. Register your team of two by calling 605-271-7717. Entrance fee is $25.
Register for any night Mon – Thurs 3:00pm – 4:30pm with the winner of the signal elimination style bracket from each night participating in Friday's Championship bracket tournament at 5:00pm.
Saturday, February 13, 2021
Pets & People Shop the Town and Downtown Pet Stroll —Canceled due to Weather—
Fawick Park: 2:00pm Bring Fido and join us for a stroll to and from Cherry Rock Park. The first 100 pets to check-in will receive a Sioux Falls Winter Carnival pet bandana. Make a special day with your pooch and take them shopping at some of the pet friendly locations throughout the city.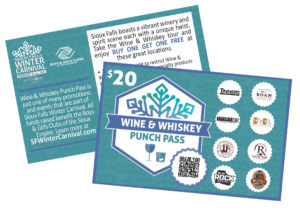 Wine & Whiskey Punch Pass
Sioux Falls boasts a vibrant winery and spirit scene each with a unique twist. Pick up your Punch Pass today and take the Wine & Whiskey tour for just $20. Enjoy BUY ONE GET ONE FREE from eight Sioux Falls participating vendors!
All proceeds from sales support the Boys & Girls Clubs of the Sioux Empire.
Check out the complete Winter Carnival event list here.