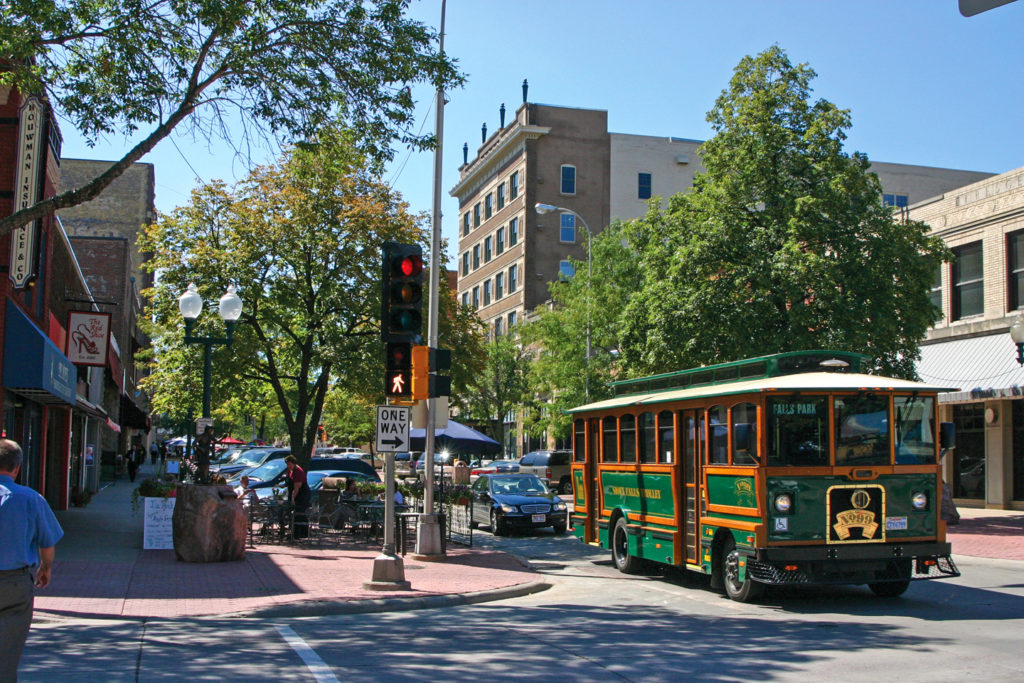 The Downtown Trolley is a hop-on, hop-off historic tour of downtown Sioux Falls and offers a unique experience for the whole family to enjoy. Riders can hop on or off at any trolley stop to take a break and enjoy all downtown has to discover!
The trolley makes a loop from Falls Park in the north, down Main Avenue to the Washington Pavilion, and back up Phillips Avenue to Falls Park, stopping along the way at 8th & Railroad Center on East 8th Street. Each loop takes 25-30 minutes.
This route will be truncated due to 8th Street being closed for construction.
Download the DTSF Trolley Map here.
Riding the trolley is FREE. Donations are accepted! Trolley vehicles are also ADA accessible.
Holiday Schedule is November 28 through December 19, 2020:
Saturdays 11:00 am – 7:00 pm
PLEASE NOTE: Stellar Limousine is implementing Covid-19 precautions for the Downtown Trolley. See the details here.
The Downtown Trolley is a partnership between DTSF, the City, Stellar Limousine, and our generous sponsors. Special thanks goes to Sanford Health, Lewis Drug, Howalt+McDowell, a Marsh & McLennan Agency, Great Plains Brokerage, and Sanford Health Plan for their support.