Downtown Sioux Falls, Inc. members, business owners, and stakeholders celebrated accomplishments over the past 30 years during the annual meeting last evening at the historic Sioux Falls State Theatre.
The program included a panel discussion moderated by SDN Communications VP of Marketing & Community Relations Vernon Brown, featuring past DTSF Executive Directors Dan Statema, Joe Bartmann, and current President Joe Batcheller.
Three awards were presented to recognize visionary leaders in the downtown community:
Carole Pagones Vitality Award: Sanford Health, Lewis Drug, Great Plains Brokerage, Howalt McDowell Insurance, a Marsh & McLennan Agency, and Sanford Health Plan
Steve Metli Visionary Award: Jeff & Sheila Hazard
Spirit of Downtown Award: Mike Cooper
"Mike has shown that when people come together, public and private, great achievements can be reached. He has believed in the potential of downtown Sioux Falls, helped fulfill its promise, and established a foundation that will carry it through for generations, " said Jodi Schwan, former Chief of Staff for the City of Sioux Falls.
DTSF Board of Directors and members elected Greg Koch, owner of 605 Running Company, as the new incoming board member.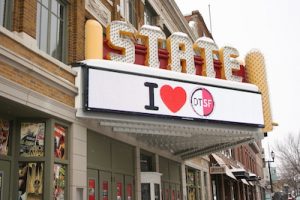 Koch has been part of the downtown community ever since his parents, Glen and Elaine, began operating the Cookie Jar Eatery in 2002. Greg opened 605 Running Company in 2014 to enhance the local running community, and was the first recipient of the DTSF Retail Incubator Program.
Outgoing board member Nancy Savage, owner of Child's Play Toys, was recognized for her six years of service, and Terri Schuver, owner of Sticks & Steel, will serve as the 2019-20 Board Chair.