Overview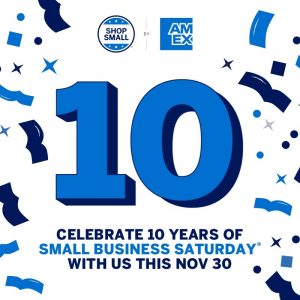 Small Business Saturday is an American shopping holiday held on the Saturday after Thanksgiving during one of the busiest shopping periods of the year. First observed on November 27, 2010, it is a counterpart to Black Friday and Cyber Monday, which feature big box retail and e-commerce stores respectively.
Downtown Sioux Falls retailers, restaurants, bars and other specialty shops will be open for business on Small Business Saturday, November 30, and encourage you to come downtown and #ShopSmall this holiday season.
Here's a list of specials, deals, promotions, and events from participating businesses:
R Wine Bar 3:00 pm – 11:00 pm, 20% off all gift card amounts. 3:00pm – 11:00pm, Wine Club Membership promotion, see Riccardo for details. 6:00 pm – 9:00 pm, Live Music with Elisabeth Hunstad.
Monk's House Of Ale Repute and Gandy Dancer Brew Works will have $1 off tap beers and glasses of wine from 1:00pm to 6:00pm. Pizzas will also be discounted to $9 during that same time frame.
Wine Time on Main 15% off all regular price menu items, from 3:00pm to close.
Sanaa's 8th Street Gourmet receive free baklava with each meal bought on Small Business Saturday.Blarney Stone Pub – Sioux Falls "Dinner in Dublin" Breakfast Entrees include a Free Bloody Mary or
Mimosa. Add your favorite ingredients at our Bloody Mary and Mimosa Bars. 10:00am – 2:00pm.
Chelsea's Boutique BOGO 50% off store wide, $5 fleece lined leggings, $10 CC hats and $15 fuzzy slippers.
Laurie Belle's Boutique Come for refreshments and treats in the store. Free gift with purchase of +$50 in store and 25 $10 gift cards to be given out to random customers.
Ode To Food and Drinks Purchase a $100 gift card and receive a free breakfast for two!
Sticks and Steel is celebrating Small Business Saturday with their favorite annual traditions! Stop in this Friday, Saturday, and Sunday for one of their favorite fun-filled, Downtown weekends. The gals at Sticks and Steel have so much planned. They're giving away: $20 rewards cards for every $100 spent, Magical reindeer treats to all of the little ones that visit, Hot chocolate topped just the way you like it, and A set of two hand-thrown mugs to one luck visitor.They're hosting Daron Krueger Book Signing for his newest photography book, "Obsessed with South Dakota".
The Cookie Jar Eatery Stop by to buy one sandwich combo (sandwich, side, cookie) get one half price! There will be $30 gift cards on sale for $25.
605 Running Company The first 20 visitors on Small Business Saturday will receive a special gift! Enjoy hot chocolate bar and holiday cookies. Get your gift wrapping done for free from your local running club with Gift Wrapping at 605!
EmBe, Zeal Center for Entrepreneurship + Startup Sioux Falls, and other downtown organizations will host a computer technology donation drive supporting local non-profits. Learn more at https://www.realzeal.com/rebootsiouxfalls
Avera Health Take a break from your downtown shopping experience for a free coffee thanks to your friends at Avera Health Plan! Stop by Josiah's Coffeehouse, Cafe & Bakery, Coffea Roasterie, Queen City Bakery, M.B. Haskett, and Dunn Brothers Coffee for a limited time on Small Business Saturday starting at 8:00am.
Papa Woody's Wood Fired Pizza Buy one wood fired pizza and get the next 50% off!
Rehfeld's Art & Framing Special pricing on custom framed miniatures. A gift that is unique, inexpensive, and shows what great taste you have.
Washington Pavilion Purchase select shows for 10% at the Box Office and 20% off new or renewing memberships available in person or by phone starting Small Business Saturday and ending December 31.
Mrs Murphy's Irish Gifts 17% off storewide!
Primp Sioux Falls Friday- Sunday 20% full price items, $5 sale rack, & 50% off sale rack!
Full Circle Book Co-op Stock up for Christmas and the cold! Join them for beer and books on Black Friday and Small Business Saturday for the 1$-2$-3$ SALE! 1$ – Mass Market (small) Paperbacks, 2$ – Trade (large) Paperbacks, and 3$ – Hardbacks.
Great Outdoor Store Enjoy shopping at the store with a hot apple cider bar, treats, and free gift wrapping for #SmallBusinessSaturday!
J.H. & Sons Clothier 20% off all sweaters and BOGO pocket squares.
CH Patisserie Buy 2 or more macarons get 1 free all day Friday & Saturday. Gift card purchase of $30 or more receive $5 bonus gift card all day Friday & Saturday. 9AM – 9PM.
Parlour Ice Cream House Buy 1 scoop of ice cream get 1 scoop of ice cream FREE all day Friday & Saturday. Gift card purchase of $30 or more you receive a $5 bonus gift card. Friday 2PM – 10PM and Saturday 12PM – 10PM.
JuLiana's Boutique La Femme 20% off regular priced items!
Terra Shepherd Boutique & Apothecary BOGO 50% off select brands. Draw for a surprise gift with purchase at checkout (no minimum purchase). Kid's Activity from 10AM – 12PM (kiddos can build a bird feeder while their adult shops!).
Parker's 50% off signature cocktails, mocktails, and tap beer with a dinner purchase.
TH Grey 30% off entire store and 70% off clearance!
Child's Play Toys Sioux Falls 20% off storewide! (Excludes Jellycat, Lego, and KicKee pants).
Intoxibakes 8AM-10AM buy a 6-pack for the price of a 4-pack. From 12PM-2PM, if you buy a dozen cupcakes you will get a $5 gift card for your next visit! In addition, all day they will be accepting DONATIONS for dry dog or cat food to help with the Community Pet Food Bank (currently in dire need of food!) along with toys & blankets.
Keep checking back for the updates!
All deals, specials and sales good on Small Business Saturday only, unless otherwise specified.