Overview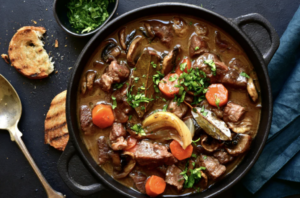 INSTRUCTOR: LIZZIE STEWART
$90 + tax
One of Lizzie Stewart's culinary influences that inspired her passion in the kitchen is Julia Child. Her tried and true classic recipes influence the menu for this class. Julia Child's most famous recipe is Boeuf Bourguignon!
Photo Courtesy to 'Lamberts Fresh Produce'
Menu:
Beef Bourguignon
Poulet Au Porto
Chocolate Pote De Crème
Plum's Cooking School exists to help you grow as a cook and deepen your love for the culinary arts. Our classes meet you right where you are on your cooking journey. Whether you are a beginner, expert, or simply curious, you'll have the opportunity at Plum's to learn and grow. Classes are taught both demonstration-style and hands-on by chefs and include samples of the food prepared.