Every year, Downtown Sioux Falls, Inc. (DTSF) celebrates the Holiday Season by lighting up downtown with festive decorations and lights. We are looking to expand this display by adding a Holiday Plaza that will be installed in the Federal Courthouse Plaza (12th Street & Phillips Avenue).
DTSF is seeking artists to custom paint fiberglass deer that will be installed in the Federal Courthouse Plaza as a part of this year's Holiday Plaza. The complete installation will include a photo scene for the public to enjoy and take pictures, walk-thru ornaments to greet guests and throughout the Plaza, the deer that have been painted by local artists will be on display.
The Plaza installation will begin Monday, November 15, 2021 and will be up until January 9, 2022.
More Details About This Project:
There will be a total of 6 artists selected, each artist will have their own deer to paint as they desire
The deer will be affixed to a platform upon arrival to artist
The deer is made out of fiberglass and will be white as shown below
Each deer is 5.3′ L 2.25'@ x 7.3 H (with antlers) photos below
Installation of the Holiday Plaza will begin Monday, November 15 and will conclude by Friday, November 19
DTSF will provide the deer, platform, light to display at night and placard with artist information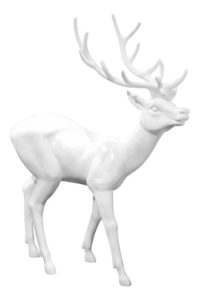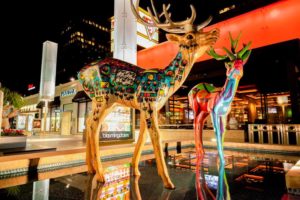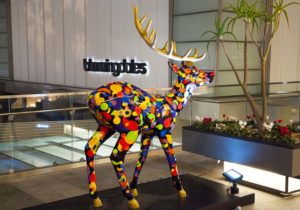 For best results when painting fiberglass, the following work best: 
Sanding prior to painting
Acrylic latex
Urethane
Acrylic and urethane resin blend
*These deer will be in the South Dakota winter elements, so please keep that in mind should you need to seal or put a finishing coat on, depending on the paint you use.
Compensation
Compensation will be awarded to artists who are selected. Each selected artist will receive $1,000.00
Potential artists may direct questions concerning this proposal to:
Sarah Anderson, Event Manager
events@dtsf.com or 605-338-4009 x 1011
Responses to this request are due Friday, October 22, 2021, by 5:00pm.
Please be aware that the final product and work will be owned by DTSF and may be used in the future past the January date. The artists name will appear when displayed. 
All responses are to be submitted using the form below.