We could all use some luck after a crazy year of 2020 and there is  hope at the end of this rainbow in 2021!  Celebrate St. Patrick's day in downtown Sioux Falls with a variety of fun activities!
1. Visit Sioux Falls Attractions
Although there will be no parade this year, you can still have many opportunities to enjoy some St. Patrick's Day spirit. One of these is  by heading to the Arc of Dreams and Falls Park where it will be lit up green in celebration of the Irish holiday. 
2. Enjoy the only Irish store in South Dakota
Without having to travel far, heading downtown in Sioux Falls will bring you to the only Irish store in South Dakota, Mrs. Murphy's Irish Gifts. Over 20 years of selling Ireland themed gifts such as Irish clothing, jewelry, and more, Mrs. Murphy's Irish Gifts is the perfect place to stop on St. Patrick's Day.
3. Go to Severance Brewery for Green Beers + Cheers
Severance Brewery, established in 2017 is all about sustainability and giving back to their community. Join them on March 13th and March 17th from 12PM to 11PM for green beers plus a green shirt giveaway! 
You can also enjoy a Coconut Zambooki, a drink Severance is offering through DTSF's Mash Madness. For information about Severance's COVID-19 precautions, click here.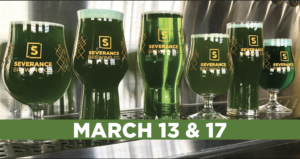 4. Relax at the only DTSF Irish Pub
Celebrate the true Irish way on St. Patrick's Day by visiting DTSF's only authentic Irish Pub. Blarney's Stone Pub named after the Blarney Castle in a small town in Ireland, Blarney's Stone Pub knows how to bring the Irish culture to Downtown Sioux Falls. Blarney's is celebrating this year by opening at 8am Saturday, March 13th, to hand out some St. Patrick's Day charms along with serving green beer. 
If you are wanting to bring the Irish culture to the comfort of your home, Blarney is also offering delivery options so you don't even have to leave your couch during the holiday!
5. Participate in the Lucky 7's Race
Saturday, March 13. put a little shamrock in your shuffle starting at 8am with this St. Patrick's themed race. Choose from 17k, 7k, or 0.7k distances, with virtual or in-person options. Feeling spry? Complete the Trifecta: all 3 events in one day!
An event hosted by Lucky 7's, 605 Running Company, and Remedy Brewing Company, the Lucky 7's Run/Walk is the first annual race being put on due to no 2021 St. Patrick's Day parade. Tickets can be purchased here and even if you don't enjoy walking or running, you can stop by Remedy Brewing Company for a drink or two during the race!
Also in conjunction with the Lucky 7's Race, ""Eat, Drink, & Shop Gold Rush" is an event where those participating in the Lucky 7's Race have an opportunity to "shop for gold" through downtowns' small businesses. Having started on March 1st, if you go to any of the participating businesses in downtown, you have the chance to earn some "gold". On March 13th, the day of the Lucky 7's Race, you can turn in your "gold" to 605 RUnning Company to redeem raffle tickets. On March 17th, you have the lucky chance to win a prize through the event's Facebook Live  
!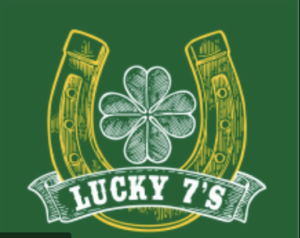 6. Enjoy your time at the St. Patty's Day Bash
Head on down to the El Riad Shrine on March 13th for their 17th annual St. Patrick's Day Bash! Sponsored by El Raid Shrine and the Fife & Drum Corps, there will be live music until 6pm and food available for purchase  to get into the St. Patrick's Day spirit. There will also be the 10th annual "Shamrock Shootout" beer pong tournament. Allowing 64 teams to play, you can sign up to compete  in three games to have a chance at winning some prize money! 
7. Look into the Full Circle Book Co-Op Membership Deal
Full Circle Book Co-Op for the beginning of March will be providing a year-long membership deal to gain some "golden" opportunities as a member. March 1st  through March 17th, you can sign up for the "Golden Ticket" membership for $150. In return, you will receive a $75 golden ticket card, where you can use to spend on a variety of books Full Circle Book Co-Op has to offer. Along with this, you can receive 10% off on all books in store, be a part of "Member Sundays", and have access to certain exclusive clothing and other deals!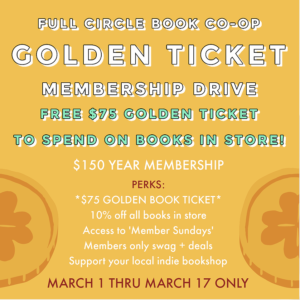 8. Be a part of the St. Patrick's Day Bar Crawl 
Starting at 1pm on March 13th, go to bars all night long while you get a taste of local bars.  Starting at Wiley's, enjoy live entertainment and DJs before you go to other local businesses around Downtown.  Also providing a free Trolley service, take full advantage of this Bar Crawl this St. Patrick's Day!
9. Get a St. Patrick's Day special order from Intoxibakes
Want to stay home but still want to be a part of the St. Patrick's Day spirit? Place an order for boozy treats from Intoxibakes! Featured cakes/cupcakes will be everything Irish Cream, Scooby Snacks, Grasshopper, Mudslide, Kahlua, and the Irish Car Bomb. Celebrate this St. Patrick's Day with a variety of goodies!
10. Snag a great deal from Sharing the Dream
It's easy being green when you get a deal! Sharing the Dream is offering 15% off all green products in-store on Wednesday, March 17.