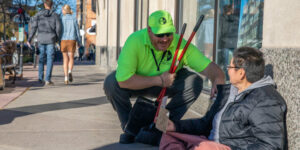 Photo Credit: Pigeon 605
Did you know that because of the BID, Downtown Sioux Falls, Inc. (DTSF) is able to…
Service 144 trash and recycling bins throughout Downtown four days per week, clearing over 20,000 gallons of refuse weekly!

Clean enough sidewalks to connect Downtown to New York and clear enough litter to outweigh a full grown elephant!
Provide 1,000+ engagements for hospitality and safety services!

Water 148 planters and 128 flower baskets daily from May through October!
Install 130+ community banners throughout Downtown!
Hang enough holiday lights to stretch from Downtown to Rowena!
Clear thousands of pounds of snow from crosswalks and parking meters!
Generate a 5-to1 ROI and over $4.3 million in economic impact from events and promotions!
Great places don't happen by accident. They happen because of investment and stewardship. Property owners help make downtown more appealing and marketable by investing in the BID, which allows DTSF to provide essential services that are adaptive to Downtown's changing environment.
Did you know DTSF provides these highly valued services with less revenue per acre than Rapid City and Fargo? Downtown Sioux Falls generates $426.09 per acre compared to $718.25 per acre in Rapid City and $1,579.60 per acre in Fargo. This is because the current assessment formula has remained untouched for 33 years.
DTSF is committed to elevating its level of service but it will require further investment. Property owners can help downtown reach its full potential with a strategic investment in the BID to enhance current services and provide additional services that will best position downtown for future demand. Now is the time to lay the groundwork to make downtown a more appealing and marketable through the work of DTSF by enhancing these services:

Ambassadors
Maintenance
Marketing

Event Support

Learn more by reviewing the BID Growth Plan.