Overview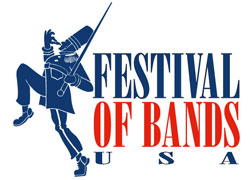 The Festival of Bands USA features a very full day of marching activities for a large lineup of bands from South Dakota, Minnesota, Iowa, and Nebraska.
This 33rd year of competition is expected to draw up to 20,000 visitors and competing band members. The 2019 lineup featured a total of 43 different bands, with 24 bands in the parade and 30 bands in field performance.
The 2020 Festival of Bands Parade will follow a route adjacent to Covell Lake. Bands will step off near Terrace Park and travel west along Madison Street, then turn south on North Lake Avenue. Judging will take place in front of the Boy Scouts of America building. This route is in close proximity to the Field Competition at Howard Wood Field.
The field competition starts at 9:45am; gates open at 8:30am.