Overview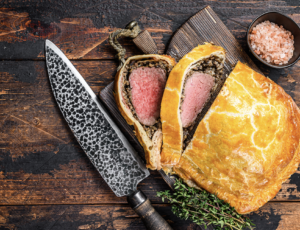 INSTRUCTOR: LIZZIE STEWART
$90 + tax
This night will bring to life the great holiday Classic A Christmas Carol by Charles Dickens. Chef Lizzie will be taking you on a stroll through her take on the past, present, and future of Christmas Culinary traditions. It's Lizzie's intention to "infotain" for a couple of hours, to share the joy of the holidays, and to celebrate the season that transports us all to a place of our fondest memories and stir a renewed invigoration to create the next generation of traditions.
Menu:
Christmas Past: A Dinner with Dickens
French Plums served with Italian Cream and toasted Hazelnuts.
Christmas Present: Dressed to Impress
Traditional Beef Wellington topped with a Shallot and Red Wine Sauce
Christmas Future: Celebrating our Gifts and Sharing Stories
Walleye En Papillote with Wild Rice and roasted Carrots served with a Lemon Bur Blanc
Plum's Cooking School exists to help you grow as a cook and deepen your love for the culinary arts. Our classes meet you right where you are on your cooking journey. Whether you are a beginner, expert, or simply curious, you'll have the opportunity at Plum's to learn and grow. Classes are taught both demonstration-style and hands-on by chefs and include samples of the food prepared.