Overview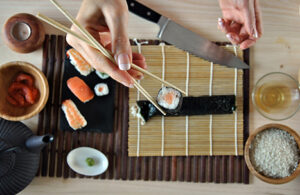 INSTRUCTOR: MADELINE PORTER
$130 + tax
This advanced sushi-making class will master the art of rinsing, soaking, cooking, and mixing sushi rice with vinegar to achieve the perfect texture and flavor. Moreover, you will learn how to create dipping sauces, make tamago omelet fillings and assemble different types of sushi rolls. It's an excellent opportunity for sushi enthusiasts to refine their skills and learn new techniques for making delicious and authentic sushi!
Menu:
Essential Sushi Components | Sushi Rice, Sushi Vinegar, Soy Dipping Sauce, Sweet Tamgo Omelet Fillings and Spicy Mayo
Inside-Out Rolls
Thin Rolls
Temaki Rolls
Plum's Cooking School exists to help you grow as a cook and deepen your love for the culinary arts. Our classes meet you right where you are on your cooking journey. Whether you are a beginner, expert, or simply curious, you'll have the opportunity at Plum's to learn and grow. Classes are taught both demonstration-style and hands-on by chefs and include samples of the food prepared.