Overview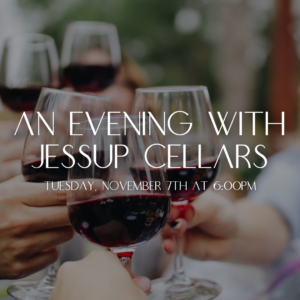 Join us for an evening with Dan and Becky Blue for our Jessup Cellars Discovery Dinner.
We will begin with a reception of passed canapés, followed by a five-course dining experience created by the Harvester Kitchen culinary team led by Chef Bryan Moscatello, paired with a curated selection of Jessup Cellars wines from the Napa Valley and California.
Jessup Cellars, located just a block north of the famed The French Laundry in the quaint village of Yountville, is a place where passion, family, hard work, and fantastic wine come together. Over the course of two decades, Jessup Cellars has cultivated a devoted following with its superlative wines and an enduring reputation for offering one of the warmest and most inviting tasting rooms in the heart of wine country. Whether you're a wine pro or just starting to explore, Jessup Cellars welcomes you. The owners, including Dan and Becky Blue, Roy and Cheri Eisiminger, Vance and Jana Thompson, and Jim and Kelly Mazzo, are all about creating great experiences for guests and supporting the arts in their community. It's a special place where wine and life's pleasures meet.