Overview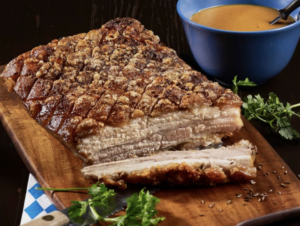 INSTRUCTOR: JORDAN TAYLOR
$90 + tax
Chef Jordan Taylor, co-owner of Bread and Circus, Pizza Cheeks and En Place Catering will bring you to the Bavarian region of Germany to demonstrate some classic dishes.
Photo courtesy of Thermomix.
Menu:
Bratwurst Maultaschen..Spinach, Smoked Hock Broth, Parsley
Kasespatzle..Bacon, Caramelized Onion, Gruyere, Crispy Shallot
Schweinebraten..Smoked Pork Shoulder, Whole Grain Mustard Gravy, Rotkohl, Apple
Plum's Cooking School exists to help you grow as a cook and deepen your love for the culinary arts. Our classes meet you right where you are on your cooking journey. Whether you are a beginner, expert, or simply curious, you'll have the opportunity at Plum's to learn and grow. Classes are taught both demonstration-style and hands-on by chefs and include samples of the food prepared.