Overview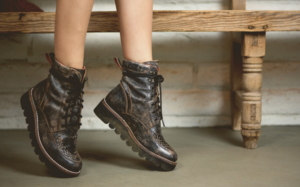 We are excited to kick off our Holiday season events with an extended line of Bedstu. We will have a special selection of bags and shoes just for the trunk show.
THINGS TO KNOW!
— Thursday, November 3rd
— Event starts at 4:00 pm
— Bedstu Bag GIVEAWAY!
P.S. It's a weeklong trunk show! The product will be available until November 10th.
ABOUT BEDSTU
In 1995, we took a leap of faith. Over the course of the next 25 years, we strived to produce the highest quality leather goods without compromising integrity or craftsmanship, while forever refining our process to ensure the most sustainable & eco-friendly product. We look forward to the next 25 years, where we will continue to evolve our eco-friendly artistry, reducing our carbon footprint, and delivering the highest quality, hand-crafted leather goods. Join us on our journey…
ABOUT THREADS BY SIMPLY PERFECT
In 2006, Penny Klinedinst opened a small retail store so she could provide her design clients with unique, high quality products.
Her first store was 800 square feet; today, it's 8,000 square feet. Simply Perfect and Threads are filled with stunning furniture, textiles, furnishings, accessories, bed and bath items, artwork and clothing.
Penny's personal philosophy drives the store's focus on simplicity, balance and beauty (to learn more, visit the Blog.)
"There's a card in my closet that I see every day," says Penny. "It reads: 'I will make all things beautiful. This will be my life.' And it is. If I'm not creating, I'm thinking about creating or renewing myself so that I can create more. It could be anything from designing a client's living room to planning a new product line to refinishing a table."