Overview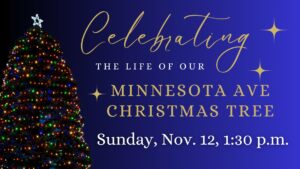 A Sioux Falls annual tradition is moving into a new stage of life's journey. The decorating of the 50-foot Christmas tree that graced Minnesota Avenue began back in the 1990s. It all started when Dale Weir asked his wife, Dorothy, what she wanted for Christmas. They were driving on Minnesota Avenue near 12th Street then, and she responded, "That tree… only with lights and decorations, to celebrate the magic of the holiday season."
Dale then paid to have the tree lit with bright holiday lights yearly. The tree lighting was viewed as a gift to the community, which they loved. Dale continued the tradition after Dorothy's passing in her honor for the community to enjoy. Dale established a fund with the Sioux Falls Area Community Foundation to ensure the tradition would continue to grace the community.
Since Dale's passing, First United Methodist Church has coordinated the yearly tree lighting. Over the last several years, the majestic tree has begun to show its age. Unfortunately, an arborist advised to have the tree removed due to its condition and avoid it becoming a safety hazard. It was then that the church took steps to ensure this tradition could be carried out.
The community is welcome to come and celebrate with First United Methodist Church as it holds a Celebration of Life for the old tree on Sunday, November 12th, at 1:30pm.
Dale knew this sad day would come and planned for this next phase. A new 40-foot artificial tree has been purchased and will be erected each year, ensuring this holiday tradition will continue for generations to come.
The dedication of "Dorothy's Tree of Hope" and its first lighting ceremony will be on Sunday, November 26th, at 6:00pm. The community is welcome to attend.
First Church is blessed to be able to continue to spread the joy and hope of the Christmas season through Dale and Dorothy's gift.