Overview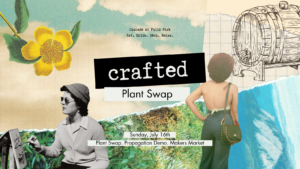 Crafted is a themed creative event that takes place on the third Sunday of each month. Join us for community, collaboration, and creativity.
This event is a fun opportunity for plant lovers in our local area to gather, connect, and exchange not only plant clippings but also full plants and even seeds. Come prepared with one or two pest-free plants—or even three—for trading. Whether they are potted or bare root, the key is your willingness to part with them.
Guests can look forward to expanding their plant collection and discovering unique varieties as they engage in lively conversations with fellow plant enthusiasts. Swap stories, share tips and tricks, and immerse yourself in the vibrant atmosphere created by our collective passion for all things green.
To ensure a smooth and enjoyable plant swap experience, we invite you to visit our event page for timeline details and to learn more about plant swap etiquette. Let's cultivate new friendships, nurture our love for plants, and grow together as a community.
Participating Business:
Darling Flowers
hArtt studio
La Luna Cafe
Rose and Eugene Presents
Severance Brewing
Terra Shepherd Boutique and Apothecary
The Factory