Overview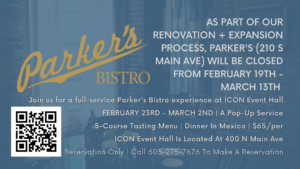 Join us for a full-service Parker's bistro experience at ICON Event Hall!
When: February 23rd – March 2nd
What: A 5-Course Meal Served By Parker's in ICON Event Hall
Cuisine Theme: Mexico
Who: Welcoming All Guests That Make A Reservation Prior. Please Note Any/All Specific Dietary Needs.
Where: Dinner is served at ICON Event Hall (400 N Main Avenue) while Parker's (210 S Main Avenue) is briefly closed for renovations. ICON Event Hall is located at 400 North Main Avenue – about 4 blocks north of Parker's Bistro, same side of the street, 6th & Main Avenue.
Make a Reservation for one or more evenings of our Pop Up! Serving dinner beginning at 5pm from February 23rd – March 2nd.
Reservation Link: https://bit.ly/3IrTbEn
IF you have any questions or need help making a reservation, please call (605) 275-7676 or send an email to sales@iconsiouxfalls.com