Overview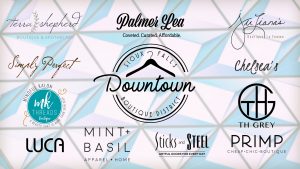 Head to Downtown Sioux Falls for the ULTIMATE shopping experience. Fall is right around the corner, and this would be a great opportunity to get an awesome head start on shopping for the new season! Each boutique will be contributing something special from their store for a chance for YOU to win the whole pot! This is a value upwards of $500! You will have to make a purchase at the participating store in order for a chance to sign up for the giveaway.
Participating Stores:
Primp Sioux Falls
Mint + Basil
MK Threads Boutique
Threads by Simply Perfect
Chelsea's Boutique
JuLiana's Boutique La Femme
Palmer Lea Boutique
Terra Shepherd Boutique & Apothecary
TH Grey
Sticks and Steel
Luca – Genuine Handmade Luxury
After you're done shopping, show your receipt at the following taprooms for a DISCOUNT!
Remedy Brewing Company
The Source Roastery + Taproom
Hope you all come on down for this awesome shopping experience!