Overview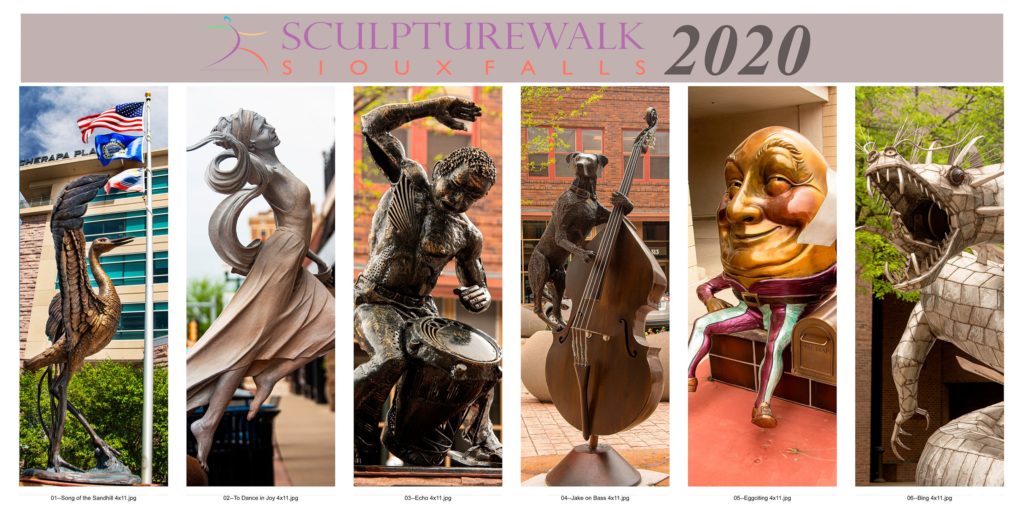 Support SculptureWalk and Downtown Sioux Falls When They Need It Most!
Now is the time to support all the downtown merchants and art you love.
Your donation of $100 will get you a $50 gift card to use at participating downtown merchants and $50 (tax deductible) will go to SculptureWalk to support the display and maintenance of the annual $1 million outdoor art show.
Gift cards can be used at the following downtown businesses:
605 Running Company
Atoley, Salon & Spa
Chelsea's Boutique
Child's Play Toys
Escape 605
Falls Park Visitor Center
Game Chest
Great Outdoor Store
Hair Essence Aveda Salon
Hilton Garden Inn
Home Porch / Gift Baskets by Design
Juliana's Boutique La Femme
Laurie Belle's Boutique
Lewis Drug Stores (Downtown location only)
Luca's Boutique
Marie & Marie Bridal
Mint + Basil
Mrs. Murphy's Irish Gifts
NV Salon Studio
Nyberg's Ace (downtown location only)
Palmer Lea Boutique
Plum's Cooking Company
Primp Boutique
Rehfeld's Art & Framing
Rug & Relic
Say Anything Jewelry
Sharing the Dream in Guatemala
Simply Perfect
Sticks & Steel
Terra Shepherd Boutique & Apothecary
TH Grey
The Spice & Tea Exchange
Vishnu Bunny
Washington Pavilion of Arts & Science
Young & Richards
Zandbroz Variety
Blarney Stone Pub
Bread & Circus Sandwich Kitchen
CH Patisserie
Co-op Natural Foods
Coffea Roasterie
Cookie Jar Eatery
Fernson Downtown
K Restaurant
M.B. Haskett Delicatessen
Mama's Ladas
Myers' Deli & More
Papa Woody's Wood Fired Pizza
Parlour Ice Cream House
Queen City Bakery
R Wine Bar
Remedy Brewing Company
Sanaa's Gourmet Mediterranean
The Source Coffee Roastery + Taproom
Sunshine Foods
Swamp Daddy's Cajun Kitchen
WoodGrain Brewing Company