Overview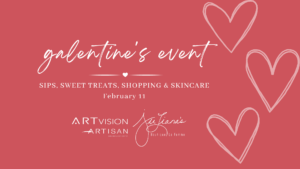 Grab your gals and join us!
FREE gift for the first 25 gals
Exclusive in-store discounts
$100 savings on fillers/lasers
Chance to win a $1,000 giveaway
𝐆𝐀𝐋𝐄𝐍𝐓𝐈𝐍𝐄'𝐒 𝐆𝐈𝐕𝐄𝐀𝐖𝐀𝐘
$350 gift card to JuLiana's Boutique
$650 skincare package including:
• Broad Band Light (BBL) treatment ($450 value)
• Revision skincare products ($100 value)
• $100 off any laser/light service ($100 value)
𝐅𝐈𝐋𝐋𝐄𝐑/𝐋𝐀𝐒𝐄𝐑 𝐒𝐏𝐄𝐂𝐈𝐀𝐋
Specials will be available on select fillers & laser
services with $100 savings in-store only!
*In partnership with Artisan Skin & Laser Center*
Artisan will be available in-store from 11am to 2pm to answer any skin/laster related questions. Vouchers available all day for $100 savings!