Overview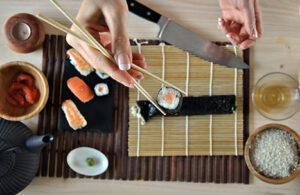 INSTRUCTOR: MADELINE PORTER
$120 + tax
Get ready for an exciting twist in our hands-on sushi class! We're thrilled to introduce the new sushi Temaki (Hand Roll), Gunkan (Battleship), Nigiri, and of course, our beloved classic sushi roll. Join us for this class, where you'll have a blast learning about the art of sushi making while enjoying these delicious new creations.
Menu:
Temaki Sushi (Hand Roll)
Gunkan Sushi (Battleship)
Nigiri Sushi
Futomaki Roll
Inside out Roll
Plum's Cooking School exists to help you grow as a cook and deepen your love for the culinary arts. Our classes meet you right where you are on your cooking journey. Whether you are a beginner, expert, or simply curious, you'll have the opportunity at Plum's to learn and grow. Classes are taught both demonstration-style and hands-on by chefs and include samples of the food prepared.