Overview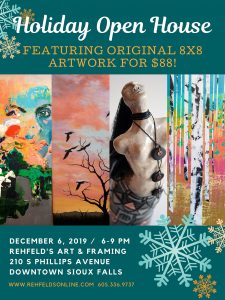 Rehfeld's Art & Framing would like to say a big THANK YOU to their amazing customers with their Holiday Open House! On First Friday from 6-9pm on December 6th, they will unveil their "8×8 for $88" collection!
Participating artists:
Jenny Braig
Idali Hall
Brad Kringen
Pam King
Ginny Freitag
Stephen H. Randall
Jamie Jacobsen
Kelly Dudgeon Tadlock
Tara Barney
Karen Kinder
Regina Brunz
Michael Hook
The event will include light refreshments and holiday treats. Come and celebrate community, the arts, and all the joy the holidays bring!