Overview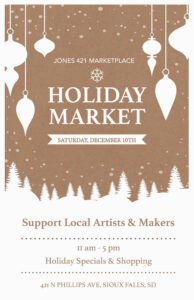 Come support local artists and makers on Saturday December 10th, at the uptown Jones 421 Marketplace.
Grab a coffee or drink while you shop with one of our 20+ vendors or sit down for lunch at one of the on site restaurants.
Come get in some last minute holiday shopping, and enjoy the unique experience as you walk around our small indoor mall and have a great time without having to worry about the weather!