Overview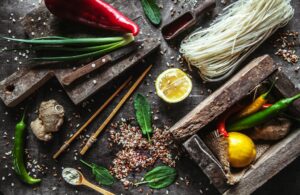 INSTRUCTOR: MADELINE PORTER
$100 + tax
Get ready for a culinary adventure that will take your taste buds on a journey through the rich and diverse flavors of Asia. You will be treated to a range of unforgettable dishes that are sure to leave you craving more.
Menu:
Indonesian Rojak Salad | Mix of Fruits drizzled with a Spicy Peanut Dressing
Taiwan Beef Noodle Soup | Beef-Wheat Noodles immersed in a rich Broth infused with Spices)
Filipino Chicken Adobo | Chicken marinated in Vinegar, Soy Sauce, Garlic, and a medley of Spices
Southeast Asia's Famous Dessert, Cendol | Shaved Ice, Green Jelly, Coconut Milk, and Palm Sugar Syrup
Plum's Cooking School exists to help you grow as a cook and deepen your love for the culinary arts. Our classes meet you right where you are on your cooking journey. Whether you are a beginner, expert, or simply curious, you'll have the opportunity at Plum's to learn and grow. Classes are taught both demonstration-style and hands-on by chefs and include samples of the food prepared.