Overview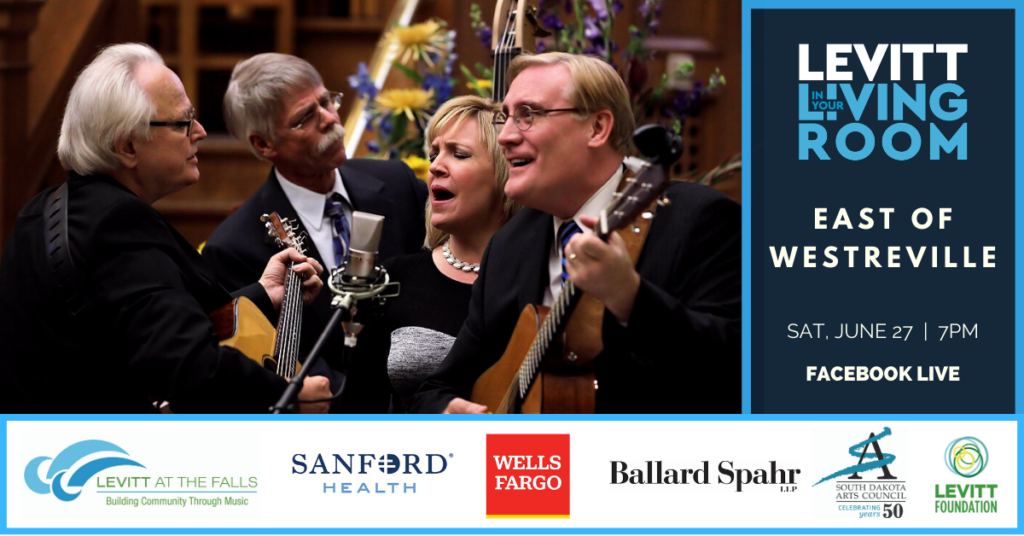 What is Levitt in Your Living Room?
It's a sneak peek, it's a deep dive, and it's a musical experience to connect as a community! Levitt in Your Living Room is a digital program that will give viewers an introduction to some of the amazing future performers coming to the Levitt.
Visit Levitt Shell Sioux Falls on Facebook Live every Saturday night at 7:00pm to experience Levitt in Your Living Room: www.facebook.com/levittshellsiouxfalls.
East of Westreville is a foot-stomping, blues to bluegrass musical road trip featuring Boyd Bristow on lead guitar and vocals, Kaija Bonde on vocals, Al Slaathaug on upright bass and Brian Bonde on guitar and vocals.
East of Westreville intertwines good "old-timey" music with homespun humor and an occasional special guest. It's an ever-changing mix of music and memories, reminiscent of the days when all that was needed for entertainment was a Philco radio and a comfy chair.
Over a century ago, the Westre Clan claimed a little spot on Frog Creek Road. "The Clay County, South Dakota crossroads, where the remains of Westreville now lie, stand as a symbol for what we will always sing about: family, love, God and faith. It's about the people who have gone before, people from small towns and farms, people like our parents and grandparents. We try to hold on to the old ways, and those people, as much as possible. We can never go back, but we can sing about it. What started as one song in a church in 2001 has since turned into a whole collection of songs, gigs and towns too numerous to count."