Overview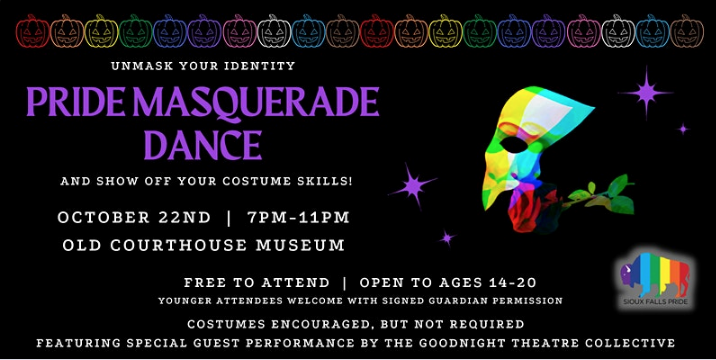 Affectionately called the Mas-Queer-Ade dance by our planning team, this event is a safe haven for all LGBTQA2S+ individuals ages 14-19.
Younger humans can attend with written guardian permission.
We encourage costumes at this Halloween Dance, but they're not required to attend.
Here's all the fun things included at the event:
Photo station set up with a tripod including a phone mount so you can take your own pics in front of some spooking backdrops.
Sensory Corner! This is our quiet space for the night. It will be supplied with spooky season themed sensory devices to help you if you get overstimulated or need a break.
Snacks & Beverages. We'll have fruit & veg trays, mini sandwiches, and some gluten free pride cookies from Heart of the City Bakery!
Special mini performance from The Goodnight Theatre Collective! Time TBD.
Please register for this free event at the ticket link above.