Overview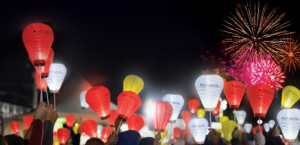 Light The Night brings the South Dakota community together to celebrate, honor, and remember those touched by cancer.​ Each year friends, families and co-workers (pets too!) enjoy an evening of family-friendly activities, food trucks, and music along with an inspirational ceremony and a short walk with illuminated, meaningful lanterns held high. Plus, the evening ends with fireworks!​ Participants receive an iconic, keepsake, Light The Night illuminated lantern.
Register at https://www.lightthenight.org/events/sioux-falls-1
5:30pm – Festival area opens
7:30pm – Survivor Photo
7:45pm – Ceremony
8:00pm – Walk begins (1 mile)
8:45pm – Fireworks
We would not be able to Light The Night without the help of our volunteers and encourage you to join us as we bring light to the darkness of cancer. We are currently looking for volunteers. Sign up to volunteer today.
Volunteer sign up form https://www.volunteerlls.org/?nd=vms_public_form&form_id=282