Overview
Beginning at 7:30 p.m. on Friday, November 23, dazzling lighted holiday floats and music will flood historic Phillips Avenue from 13th Street to 5th Street. The 27th Annual Parade of Lights, Presented by First Bank & Trust is the official start to the downtown holiday season!
Parade registration has closed for 2018
For parking, consider trying a ramp for FREE after 5pm: Downtown Parking Info
Join us at the Holiday Inn City Centre for the Parade of Lights After Party & Awards Ceremony for music, holiday cheer and awards for floats in the following categories:
First Bank & Trust Hometown Pride Award: This award will be given to the float that best represents hometown pride, no matter what community you are from!
Best Use of Lights – This award is given to the float that shows the most ingenuity and engineering in light usage and special effects for visual appeal.
Best Workmanship – This award is given to the float that displays outstanding craftsmanship, neatness, attention to detail, overall design and usage of color and materials.
Spirit of Sioux Falls – This award is for the float exhibiting the most public appeal and charm, most creatively pleasing the crowd.
Mayor's Choice – This award is given to the personal favorite of Sioux Falls Mayor (pending availability).
Downtown Sioux Falls Award – This award is given to the favorite of DTSF board.
Parade Route: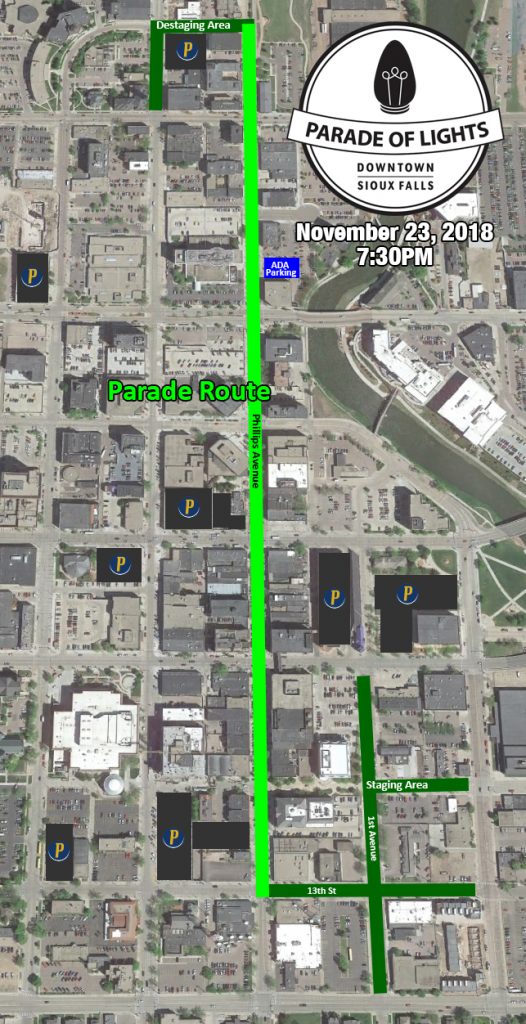 Persons requiring special accommodation for participation in this event should call 605-338-4009 during regular business hours at least 48 hours prior to the event. Special needs will be accommodated whenever reasonably possible.