Overview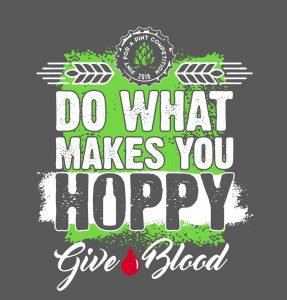 Sioux Falls, SD / Luverne, MN- Take 16 Brewing, Remedy Brewing, KBACK Radio and Community Blood Bank are teaming up to fight summer blood shortages at the annual "Pint for Pint" blood drive competition. The two breweries will compete to recruit blood donors to benefit the community's blood supply. Residents are asked to donate blood, cast their donation vote for the brewery of their choice and impact the community. The winner will receive the champion STEIN traveling trophy and bragging rights for the year. This fun blood drive event is scheduled for Friday, August 16 from 1:00 pm to 5:30 pm at Take 16 Brewing, 509 East Main St., Luverne, MN and Remedy Brewing at 401 East 8th St., Sioux Falls, SD. The breweries are offering a "pint" of their brew for all who donate blood and an event t-shirt as a thank you for supporting the communities blood supplies.
"We have struggled to keep up with demands for blood all summer long," states Rita Nelson, Donor Consultant, Community Blood Bank. "We have been in critical need for blood throughout the summer and hope to see local support to keep the blood supply stable at all of the 34 hospitals serviced by Community Blood Bank including Sioux Falls and Luverne."
Blood is needed each day in the United States to sustain the lives of patients in need. Whether used for surgery, traumas, during cancer treatment or other life threatening medical conditions, blood is used to provide hope. There are many blood suppliers throughout the country, some are very large blood providers, some a little smaller and others are hospital operated. Community Blood Bank is hospital operated with a joint shared resource of Avera and Sanford Health Systems, meaning when you donate on the bloodmobile the donation will go directly back to save local lives.
Donors must be at least 17 years old (16 years old with a signed parent consent form found at www.cbblifeblood.org), weigh 110 lbs. or more and be in good general health the day of the donation. Please bring an I.D. It is recommended that a person eat and drink plenty of fluid prior to donating. Community Blood Bank is not associated with any other blood bank organizations.