Overview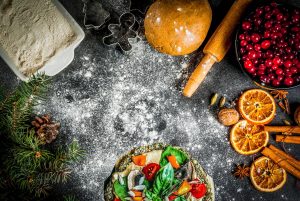 Raw Chef Emily Wilson studied at the Healing Food Academy in Bali Indonesia under Bali Raw Chef Sayuri Tanaka. Her passion for helping others achieve better health has inspired her to create delicious healthy meals. This Christmas menu of raw gourmet dishes will dazzle you and impress even the pickiest of eaters. Come learn how to create fully raw bread, soup, pizza, and more while being served a delicious allergy-friendly dinner.
Menu:
Appetizer- Rosemary Cranberry Corn Bread with Harvest Fig Jam
Side- Sweet Potato Coconut Soup with Sweet Onion Crackers
Main- Holiday Pizza With a Savory Cauliflower Crust
Dessert- Chocolate Peppermint Truffles
The class also includes a glass of complimentary wine!