Overview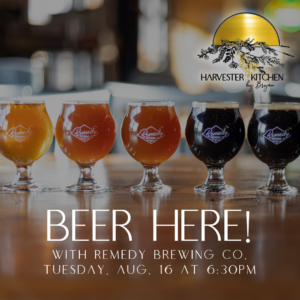 BEER HERE! Discovery Dinner on Tuesday, August 16, featuring Lead Brewer Tyler Wasberg from Remedy Brewing Co. Join us on the patio at 6:30 pm for a cold one and snacks, followed by a relaxed beer-paired dinner in the restaurant.
This is a Discovery Dinner you will want to gather your beer-loving friends for… Chef Bryan and Brewer Tyler have thoughtfully selected each pairing to create a unique experience demonstrating the inspiration, science, and mechanical know-how of Tyler's brewing skills and the HK culinary team's innovative techniques.
Come on out and support local DTSF talent! Established in 2013, Remedy Brewing Co. was started by three Sioux Falls locals who all share the same love for everything brewing and beer. The Harvester Kitchen team recently celebrated our first year on May 15, 2022.