Overview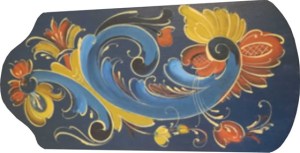 Eileen Halverson will be demonstrating the Norwegian folk art of rosemaling (decorative painting) in the second floor hallway of the Old Courthouse Museum. Stop in any time during the afternoon for a demonstration and to ask questions about learning it yourself!
Throughout the upper-Midwest, Norwegian immigrants brought this style of painting with them as a decoration on trunks and household items. The colors are bold, designs elaborate, and items became true works of art.
Eileen will also be demonstrating this art on August 18.