Overview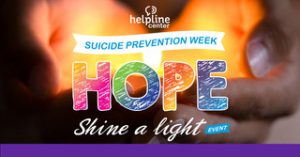 World Suicide Prevention Day is observed each year on September 10. On this day, people are encouraged to light a candle near a window as a symbol of support for suicide prevention and to support those lives touched by suicide.
In honor of World Suicide Prevention Day, the Helpline Center will be hosting a candle light walk to promote awareness of suicide prevention and remember lives lost to suicide. Our event will begin at the Washington Pavilion Sculpture Garden with a brief program, followed by a walk in the downtown area.
Details: After a welcome from Helpline Center President, Janet Kittams, we will be joined by the Mayor of Sioux Falls, Paul TenHaken, who will announce the Suicide Prevention Week proclamation. Participants and organizers will then walk with candles (LED candle lights) near the Washington Pavilion and into downtown, where the walk will conclude at the Federal Courthouse Plaza.
Please join us as we raise awareness and support during National Suicide Prevention week, September 9-15.