Overview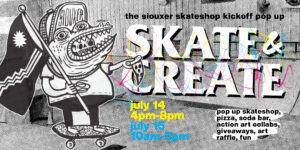 The Siouxer is leveling up with a brand-new Skateshop! Roll on over to Rose and Eugene Presents on Friday, July 14th, from 4:00pm to 8:00pm. Get to know DJ and Laura, the faces behind The Siouxer Sk8 & Shop, and explore the gnarly collection of decks, hardware, and sick apparel the crew has handpicked. Get amped in the electrifying atmosphere with a merch pop-up (packed with exclusive Siouxer/Rose and Eugene gear), mind-blowing giveaways, and a pizza and soda bar to keep your stoke levels high.
Keep the good vibes rolling on Saturday, July 15th, from 10:00am to 5:00pm, as we unveil an adorable display of Skate Action Art. Brace yourself for an insane collaboration between Les Cotton and the raddest little skaters around Seedling, Bella Donna, and Critter students. Trust us, you won't want to bail on your chance to score big in the Skate and Create raffle. And don't worry, the merch pop-up will be going strong, so you'll have the chance to snag the freshest skateboarding gear and apparel.
Get ready to unleash your inner skater and be a part of Skate & Create, The Siouxer's Skate Kickoff Event. This is where skateboarding culture comes alive, and you won't want to miss a single moment of it!
Learn more about The Siouxer at instagram.com/thesiouxer.