Overview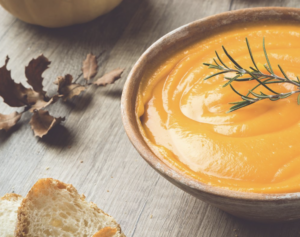 INSTRUCTOR: LAUREL LATHER
$80 + tax
January is the perfect time of year to enjoy a soup supper right at home. Laurel Lather will be demonstrating non-traditional soup recipes to try this winter.
Menu:
The Amuse Bouche:
Beet and Black Garlic Soup with Beetgreen Pesto and Ginger Creme
The Hearty Main Course:
Roasted Mushroom and White Bean Soup
Dessert:
A Unique Carrot Cake Soup
Plum's Cooking School exists to help you grow as a cook and deepen your love for the culinary arts. Our classes meet you right where you are on your cooking journey. Whether you are a beginner, expert, or simply curious, you'll have the opportunity at Plum's to learn and grow. Classes are taught both demonstration-style and hands-on by chefs and include samples of the food prepared.