Overview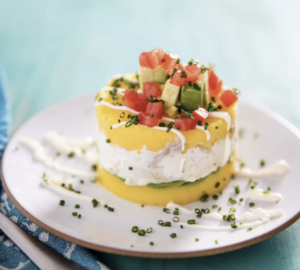 INSTRUCTOR: GABY SATURNO & SEAN HOFER
$250 + tax
Join in on the Around the World series with Gaby & Sean. In March, they will explore Peru for this Special Reserve class. Expect demonstrated, classic Peruvian dishes! Each ticket is good for 2 seats. Each pair will receive a bottle of either red or white wine to share during class.
Photo courtesy to 'Serious Eats'.
Menu:
Ceviche de camarón (Shrimp Ceviche)
Causa de atún (Peruvian Causa with Tuna)
Ají de gallina (Creamy Chicken)
Suspiro limeño (Peruvian Custard)
Plum's Cooking School exists to help you grow as a cook and deepen your love for the culinary arts. Our classes meet you right where you are on your cooking journey. Whether you are a beginner, expert, or simply curious, you'll have the opportunity at Plum's to learn and grow. Classes are taught both demonstration-style and hands-on by chefs and include samples of the food prepared.