Overview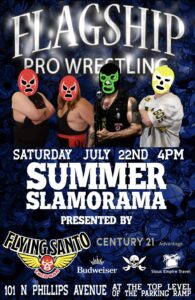 Get ready for an unforgettable afternoon of thrilling wrestling matches, delicious food, and non-stop entertainment at the Summer Slam Wrestling Match! This highly anticipated event, organized to celebrate summer with C21 and commemorate the one-year anniversary of The Flying Santo Taco Bar, promises to be an action-packed extravaganza for wrestling enthusiasts and families alike.
Taking place on July 22, 2023, from 4:00 PM to 6:00 PM, the Summer Slam Wrestling Match will be held at the second floor of the Parking Garage located at 101 N Phillips Ave, Sioux Falls, SD. This unique venue provides a captivating atmosphere and ensures an up-close and personal experience for the audience.
Witness some of the most talented and charismatic wrestlers in the industry as they go head-to-head in thrilling battles. Brace yourself for high-flying moves, intense rivalries, and nail-biting action that will keep you on the edge of your seat throughout the event. The Summer Slam Wrestling Match guarantees a memorable experience for wrestling enthusiasts of all ages.
But it's not just about the wrestling matches! Indulge your taste buds with a mouthwatering treats partially provided by The Flying Santo Taco Bar. Other food vendors TBA.
Families are invited to bring their children along and let them have a blast in the bouncy castle, an inflatable attraction that promises endless fun and entertainment for the young ones. In addition, attendees can explore a diverse range of vendors offering unique merchandise, wrestling memorabilia, and other exciting products. Take home a special memento to remember this thrilling event and show your support for the wrestlers and local businesses.
For further information and updates, please visit https://fb.me/e/3EUh7e1tQ.