Overview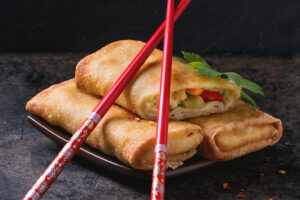 INSTRUCTOR: MADELINE PORTER
$90 + tax
Discover the vibrant flavors of Southeast Asia and immerse yourself in the aromatic herbs, vibrant spices, and delicate flavors of Thai and Vietnamese cuisine.
Menu:
Fresh Spring Roll with hoisin/peanut Sauce
Chicken Bahn Mi
Panang Beef Curry
Red Rubies in Sweet Coconut Milk
Plum's Cooking School exists to help you grow as a cook and deepen your love for the culinary arts. Our classes meet you right where you are on your cooking journey. Whether you are a beginner, expert, or simply curious, you'll have the opportunity at Plum's to learn and grow. Classes are taught both demonstration-style and hands-on by chefs and include samples of the food prepared.